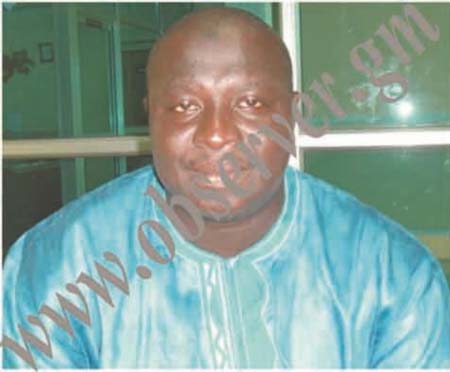 Abdoulie Bojang, National Sports Council Desk Officer, has called on wresting promoters to come together as one family.
Ablo, as he is widely called, was speaking to Pointsports in an interview yesterday at his Independence Office when he made these remarks.
He added that Gambian wrestling is taking momentum though not that high, adding that when something is growing "we need to take our time and secure it rather than fighting among ourselves".
"Sometimes you listen to radios you hear people fighting over wrestling," he pointed out, saying he is definitely not happy with such as they are here to ensure they put wrestling as our own sport in the country that we do not borrow from anybody.
"Wrestling is now modernized and people are making money out of it," he stated, calling on people to secure it since they are making money out of it.
"We need to secure wrestling so that it will look attractive for companies or people with money to be able to put their money in it by supporting wrestlers," he noted, saying his stand is the athletes because if the athletes suffer the sport will not move.
If people put their money in wrestling they need to get incentives, Ablo also said, adding that they do not want the sport to be growing and people are fighting while the incentives not being there.
"We want everybody to come in and promote wrestling as expected by the federation," he went on, saying for him as Desk Officer of the NSC he wants wrestling to be supervised in a correct manner.
Ablo also took time to discuss the timeframe of staging wresting combats, saying: "If you look at Senegal where you have renowned big wrestlers, where they pay millions, by 5pm the first combat starts, and by 7pm all combats are finish."
Mr Bojang said that sometimes he would go to arenas by himself and the first combat will start around 7pm, noting that "sometimes you talk to promoters they tell you the people they invited are not around".
"If you put a flag over somebody tell him or her to be there by 5pm, if not the combat will start," he advised promoters, saying they will take a step on the issue of time.
The wrestlers are always at the arena on time, he observed, saying: "You cannot give wresters combats at 2pm and them stay there from 2pm to 10pm at night, it is not fair.
"If we want people to respect wrestling, to have dignitaries come, especially on Sundays we have to make it early because the following day is a working day," he remarked, saying people need to go home and prepare their children for school on Monday.
"If you want to leave combats up to 10 or 11pm and then it's over it is mostly dangerous God forbid when there is a problem," he highlighted, questioning who to protect when there is a problem.
"You may not even see your enemy, and this is why we say wrestling has to take a very conducive momentum," he further stated.
Ablo took time to thank the President of the Republic of the Gambia whom he described as the pioneer of Gambian wrestling, adding that that the President is promoting traditional wrestling, which is where they as Government also stand.
"We are not discouraging boreh dorr but we are promoting the traditional wrestling because this is the one that will grow with the boreh dorr," he also said, while calling for violence-free wrestling.
"Whoever is coming to wrestling for promotion and think you will make money immediately it is going to be difficult," he cautioned promoters, adding: "We will try to grow inside wrestling and there we will make money but if we do not grow with wrestling it is going to be difficult to come and make money instantly."
In conclusion, he said; "We all have to sacrifice until people, companies see that wresting is worth putting in our money. It is coming bit by bit, but if they hear the push and pull it does not tell well." 
Read Other Articles In Article (Archive)