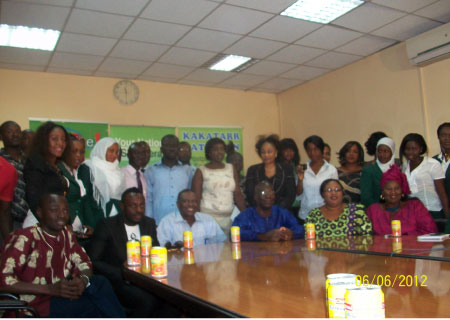 The famous Nollywood actor Jim Iyke of Nigeria Wednesday visited the offices of the Gambia Cellular Company (Gamcel) on Mamadi Manjang Highway in Kanifing.
The Nigerian star is in The Gambia under the mandate of the African Children Talent Discovery Foundation (ACTDF), a United Nations affiliated body for educational and talent scouting.
Jim Iyke, an ACTDF ambassador, is said to have been given a mandate to go across the continent to select two children in each visiting country for free education to whatever level as aspired by the UN.
He was led to Gamcel by George Gomez, the chairman of the regularization body of films in The Gambia.
Speaking at the ceremony, Gamcel's marketing and communications manager Ma Nyima Cham described the visit as a boost, noting that Gamcel has been in operation for the past eleven years.
Madam Cham said the visiting star is a youth ambassador and in Gamcel they pride themselves to be associated with the youth, which makes them share this commonality.
Ramou Nyass Hydara, senior marketing manager of Gamcel, also described the star's visit as important since Gamcel is eying more partnership in the international community, especially a star like Jim Iyke.
Madam Nyass added that they want Gamcel to not only be recognised within the West African region but also to be seen as a dominant player in Africa and by extension the world at large she said.
The director of customer service, Basiru Darbo, described the star as a role model for many both in The Gambia and the world at large, stating that the visit was highly appreciated.
Kebba Bojang of Gamcel also thanked George Gomez for the longstanding relationship and good initiative.
George Gomez, leader of the delegation, said Iyke is also interested in looking at how he could contribute to enhance the movie industry in The Gambia as well as the development of the tourism sector.
Mr Gomez stated that Gamcel is chosen due to its status as a national GSM operator, saying Gamcel has impacted positively in the development of the communication system in the country.
"If anybody is coming to contribute to enhance Gambian tourism and film industry, they should first think about the national GSM," he said.
The Nollywood star described this initiative as great opportunity, saying those lucky persons to be selected must be between the ages 16 and 26 and must be underprivileged students of high talent.
As part of his UN mission, he decided to meet with stakeholders and see how they can partner to push the industry forward, the movie star said.
Read Other Articles In Article (Archive)