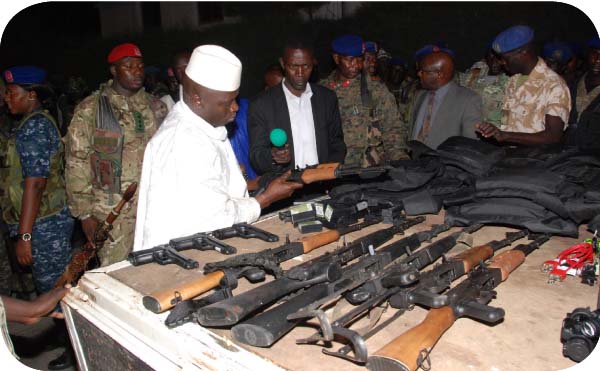 President Yahya Jammeh has said that nobody could destabilise The Gambia.
"Anybody who comes to attack this country; be ready because you are going to die, no matter who you are and who backs you. We have the Almighty Allah. He is the supreme power and nobody can do anything about that," he said.
"I want to thank the Gambian people for their support always. I will die for The Gambia. I live for Africa and die for Africa. I will die fighting for the truth," he declared.
President Jammeh was speaking in an interview with GRTS TV on Wednesday after the State House attack by Gambian dissidents based abroad.
He added: "No human being can do anything to me, my government and The Gambia because The Gambia is a blessed country and God is on our side."
According to President Jammeh, the incident was not a coup; it was an attack by dissidents based in the US, Germany and the UK.
"You would realise that some of these materials are US-made that they have and, of course, we also have a comprehensive understanding of what they have been planning," he said.
The attackers had literature, President Jammeh further revealed, adding that the attack was the final stage of their plan, after they had implemented stages one and two.
"What is interesting is the fact that we were able to get all that they had in their computer. We were able to download it, and the information that I will release is very startling," he added.
He praised the loyal forces of The Gambia, whom he said, helped in nullifying the attack.
President Jammeh made it very clear that The Gambia armed forces are "very loyal and, as far as we are concerned, there was no participation of the armed forces in it except in nullifying the attack."
"Therefore, it could not be called a military coup because I have seen some media houses saying that there was coup," he remarked.
"This was not a coup; this was an attack by a terrorist group backed by some powers that I will not name for now," he added.
The President sent a strong message to the powers that be, warning against any attempt to destabilise The Gambia through any agents, which would end as an exercise in futility.
He also reiterated that The Gambia would not be colonised twice, nor would its citizens be ever enslaved twice.
He said the attackers' desire to get hold of State House was an illusion as it would not happen in a billion years, and challenged anyone to try.
He emphasised that he would not allow Gambians to be ripped off their resources for so-called democracy, adding that those who want to do that could "go to hell".
"So the whole problem is about our oil and minerals and I will not give my minerals to any idiot for whatever reason. They will never exploit us twice," he added.
"In fact, two countries were named by the attackers as their allies, which we will not name now because those are the two that harbour these dissidents openly and make statements."
Regarding his purported Facebook account, President Jammeh said that is unfounded as he had not been a member of any social media platform.
"I am surprised also to know that there are people that went out of their way to say that I have a Facebook account. I don't. I am not a member of any social medium platform. I don't even browse and I don't check it because computer is so addictive," he said.
"I will warn those doing it, even if they have a good intention, not to use my name because that is criminal," he added.
"So I don't have any Facebook account. I don't even know how to access the computer to a Facebook page," President Jammeh stated.
Regarding zero tolerance to instability, President Jammeh stated that he would not compromise the security and wellbeing of this country for anybody, adding that democracy does not mean allowing agents to come over, take the country's resources and give it to other people.
He thanked everyone, Gambians, non-Gambians, and people of goodwill that have expressed their solidarity.
Those involved in the attack would be dealt with, he said: "We will get to the bottom of this and we will not spare anybody. I will set an example and let everybody be prepared for that. Enough is enough. They want to destroy our country, we will destroy them."
Read Other Articles In Article (Archive)