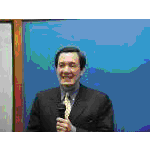 President Ma Ying-jeou recently ruled out the possibility of visiting China and Hong Kong but said official channels of communication between both sides of the Taiwan Strait would resume shortly.
Emphasising that his administration would like to resume bilateral talks based on the "1992 consensus," Ma told his first international press conference since taking the oath of office that he did not have any plans to visit China and that there was no hurry for leaders of both sides to meet. He said he was glad to see Chinese Nationalist Party (KMT) Chairman Wu Poh-hsiung visit China.
While he did not have any plan to meet with the Dalai Lama, he said the religious leader was welcome to visit the country.
The party-to-party communication platform established by KMT honorary chairman Lien Chan and Chinese President Hu Jintao in 2005 will not overlap with the official channel, Ma said, adding that the latter mechanisms should be activated within a week or two.
Ma said he welcomed Chinese investment in his "I-Taiwan 12 infrastructure projects" but did not think Chinese capital would affect his political agenda.
He said he did not think China's devastating earthquake would have any significant impact on Chinese investment. Taiwan is more than happy to share its experience from the Sept. 21, 1999, earthquake with China, he said.
On weapons procurement, Ma said Taiwan would not engage in an arms race with Beijing because it did not correspond to the country's interest nor was it capable of doing so
His administration would build the military's defence capability and continue to purchase defensive weapons, but would never buy nuclear weapons, he said
On foreign affairs, Ma said he was sorry about the Papua New Guinea fund scandal and his administration would begin pragmatic talks with Beijing seeking a "modus vivendi." He urged Beijing to engage in a "diplomatic truce" to help improve cross-strait relations and Taiwan's international status.
Regarding the bids to join the WHO and UN, Ma said Taiwan wants security and prosperity but also dignity. His administration would study the best way to gain accession to the institutions and other organizations, he said.
He urged ASEAN countries to include Taiwan in the regional economic bloc because it is an economic powerhouse.
If Beijing continued to oppress Taiwan's diplomatic space, Taiwanese would form a bad impression of China and Beijing would not get what it wants, namely smooth cross-strait relations, he said.
China posed a threat to Taiwan, but also could present an opportunity, Ma said, adding that he believed public opinion on both sides favored peace in the Taiwan Strait
On domestic affairs, Ma said on top of his administration's agenda is revitalizing the economy, building a clean government, creating civic harmony and cross-strait peace and restoring mutual trust with the US.
Read Other Articles In Article (Archive)