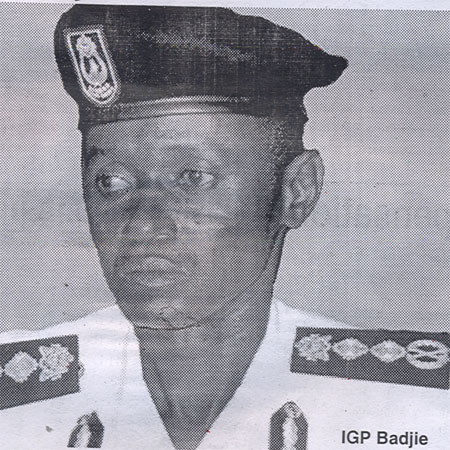 The Inspector General of Police, Mr. Ensa Badjie, recently announced that there would be no extension for any peace- keepers after successfully completing their tours of duties in their various mission areas, as long as he is occupying the office of Inspector General of Police.
 IGP Badjie was speaking at a welcoming ceremony for eight returnee army officers from the observer mission in Darfur, after successfully completing their mission. He maintained that if there were extensions, others would not benefit from the peacekeeping missions.
He pointed out that this is an occasion of thankfulness that after successfully serving away from home the personnel have returned home in good health.  "Of course this is a good name to our nation", he added.  He noted that it is not a surprise to him that the Gambian peacekeepers are always exceptional in their various mission areas.
The police boss then prayed for the remaining contingent to come back home safely after completing their mission without experiencing any ill-conditions or encountering risky situations. He affirmed that the officers had performed their duties as was expected of them. "Even when the officer is PHD holder if he or she doesn't perform their duty they will sacked or asked to resign," he said. Turning to the issue of postings IGP Badjie stressed that any officers who have postings anywhere you have to go and serve that posting until the period is elapsed. He added that postings are compulsory to each and every officer and that "you most have to go and serve your term anywhere you may be posted within The Gambia."
Also speaking at ceremony, and deputizing for contingent commander, Famara Badjie told the security chiefs that the men lived up to the expectation during their tour of duty in their various mission areas. He said as a Gambian contingent they don't have many problems during the tour of duty and everybody came home safely without any ill- situation as many African contingents are facing.
 He said the men are worthy of congratulation though the mission is very risky, the men are well experienced and showed their readiness at any point in time when the need arises. He added that the men did their best to make sure and abide by the rules and the regulations of the AU during their away duties.
Read Other Articles In Article (Archive)