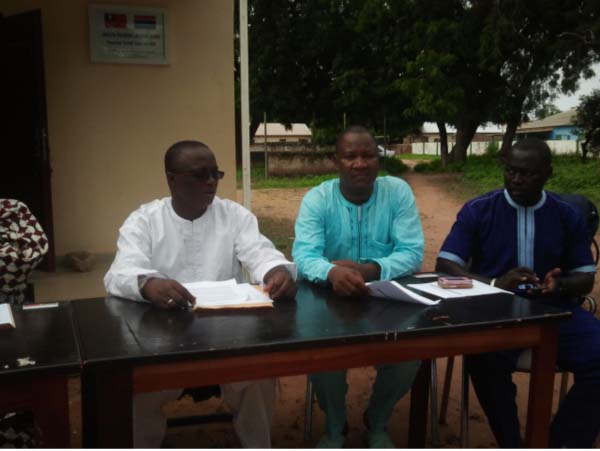 The National Malaria Control Programme (NMCP) under the Ministry of Health and Social Welfare in collaboration with regional health management team and district authorities for the community mobilization, development partners, UN agencies and community-based organizations, Saturday launched the National Indoor Spraying (IRS) Campaign in Upper River Region.
In his launching remarks, URR deputy Governor Jedi Baldeh said the launching of the IRS campaign in URR marked the 2014 IRS Spray Cycle.
He described the launching of the IRS as an important milestone for URR in the fight against malaria in the region, as the country moves toward malaria elimination by the year 2020.
According to Baldeh, substantive progress has been made against malaria, even though it still remains one of the region's greatest childhood killers.
Baldeh said malaria consumes almost half of the clinical services in URR, and is a substantial obstacle to social and economic development in the tropics.
The Indoor Residual Spraying is a passive and a highly equitable intervention, and URR continued to benefit from this intervention which has contributed greatly to the recent reduction in malaria prevalence in URR, he continued.
Baldeh added that the integrated approach to malaria prevention and control is yielding significant results, in terms of reducing malaria morbidity and mortality.
The regional director of Health Services, Ebrima Jaiteh, said evidence has shown that international efforts geared towards malaria prevention, control and elimination saved more than three million lives since 2000, by lowering mortality related to malaria by 42 per cent globally and 49 per cent in Africa.
Mr Jaiteh further stated that an estimated 600,000 die annually due to malaria, mainly children under 5 years in sub Saharan African.
He said an intervention such as IRS should be applied as part of an integrated vector management exercise, which has the potential to disrupt vector population dynamics and shorten the transmission period or even suppress epidemic outbreaks entirely.
The programme manager, Balla Kandeh, said malaria is a major public health problem and it takes a lot of concentration and effort to fight against malaria. Residual spraying will reduce the number of mosquitoes that enter houses, he added.
Kandeh said the reduction of the mosquitoe population would eventually reduce the morbidity and mortality due to malaria in the country.
Read Other Articles In Article (Archive)