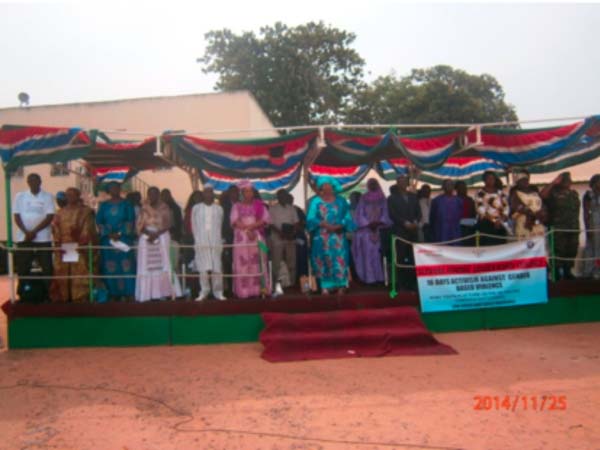 The Network against Gender-Based Violence (NGBV) Tuesday commemorated International Day for the elimination of all forms of violence against women with a symposium at the KMC grounds.
The commemoration was conducted under the theme: "From peace in the home to peace in the world: Let's challenge militarism and end violence against women."
Omar Badjie, Director of Action Aid-The Gambia who funded the programme, said the importance of the 16-day activism could not be overemphasised because there are lots of celebrations within the period.
He said the celebration is annually held to raise awareness of people concerning violence against women in the society.
"The 16 days of activism against gender-based violence is an international campaign originating from the first women's global leadership institute sponsored by the Center for Women's Global Leadership in 1991," Mr Badjie said.
The campaign runs from 25 November to 10 December each year and it is consciously selected to symbolically link gender-based violence to human rights and to denounce violence against women and human rights violations.
Sana Jawara, Chief Medical officer, representing the ministry of health, said the international community is increasingly concerned about the status of women and girls all over the world, adding that there was need for elimination of all forms of violence against women and girls privately and publicly.
He said child marriage is claiming millions of victims annually and hundreds of thousands of injuries or death resulting from abuse or complications from pregnancy, as well as child birth.
He said that according to International Centre for Research on Women (ICRW), one hundred million girls will be married before age of 18 in the coming decade and most of them will be in sub-Saharan Africa.
Mrs Binta Sidibeh, executive director of Women Bureau, said the Gambia government has done a lot by "ratifying so many conventions and protocols dealing with women's issues" and by passing many laws just to protect women and girls.
This is the fifth year advocacy on the intersections of gender-based violence and militarism, she said, adding that it was evident that the number of cases recorded by the team of RVTH from January to June 2014 is increasing.
Read Other Articles In Article (Archive)