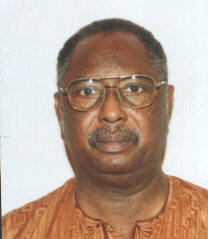 The family, colleagues, friends and loved ones on 16 December 2014 gathered at the house of the late Deyda Hydra in Kerr Sereign to recite the Holy Quran and pray for him, as well as remember the good work he has done for humanity.
Speaking at the ceremony was Pap Saine, co-publisher of The Point newspaper, who prayed for Deyda's soul to rest in peace.
He said he would always pray for the late Deyda's family, and thanked his wife Maria Hydara who has been of service to everyone even after the demise of her husband.
He said 16 December is a very important date for them, because it was the birthday of the late Deyda's wife, Maria Hydara. It was also the day The Point newspaper was founded with the Deyda Hydara and late Baboucarr Gaye.
It was also the day the late Deyda was gunned down, he continued, adding that the day, therefore, means a lot to them.
He said among Deyda's achievements is the fencing of the Old Jeshwang Cemetery and the establishment of The Point newspaper.
He thanked the wife and the entire Hydara family, and prayed for Allah's mercy on him.
Maria Hydra, the wife of the late Deyda, thanked the entire media fraternity for standing beside her and the family.
She also thanked Pap Saine who has always been of service to her and the entire family.
She also thanked Swaebou Conateh, who even though is not feeling well, tried to attend the ceremony due to the love he had for the late Deyda, who was a friend and a colleague to him. She thanked everyone for their support.
Sam Sarr, managing editor of the Foroyaa newspaper, in his brief remarks said Deyda was a great man who helped most of the journalists in the country, and has done a lot of good things through journalism.
He said the opening of a media house such as The Point newspaper was one of the biggest achievements of the late Deyda.
He added that Deyda loved people, and opened his doors to many people and journalists in The Gambia and beyond.
He also offered prayers for Deyda's soul to rest in peace.
Deyda's sisters and family members also thanked his wife for the good job she has been doing in helping the family, and keeping them together after the demise of Deyda.
They also thanked Pap Saine for being of service to the family since the demise of Deyda, and prayed for long life and good health for The Point staff and the entire media fraternity for the good job they are doing.
Other speakers on the occasion, including Swaebou Conateh, echoed similar sentiments and described the late Deyda as a good man who responded to the needs of many, especially those in the media fraternity.
Read Other Articles In Article (Archive)