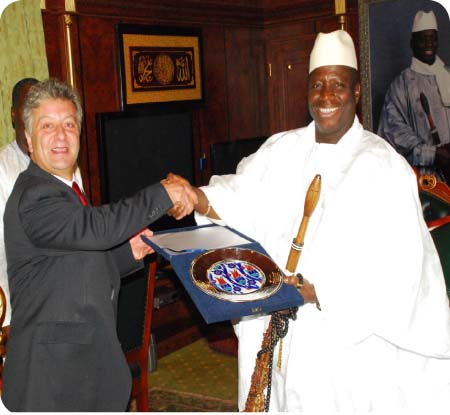 The new Turkish ambassador to The Gambia yesterday presented his letters of credence to President Yahya Jammeh at State House in Banjul.
Ergin Soner, a career diplomat with 25 yearS of experience, told reporters after presenting his credentials to the Gambian leader behind closed-doors that, as the new Turkish ambassador to the Gambia, he was more than happy because this was more than a particular reception by the President.
''We exchanged our views on different issues, but mainly on bilateral issues. We also talked about some global matters,'' he told journalists.
''It was a very fruitful and useful exchange of views. I brought a message from my president to the president of The Gambia,'' he stated.
According to the Turkish diplomat, his three hours of discussion with President Jammeh was an indication of how the two countries are close to each other.
Gambia and Turkey, he said, are two friendly and brotherly countries.
He noted that it is obvious that Turkey has a lot of things to learn from The Gambia and from President Jammeh about African issues.
''Even though Turkey just recently opened its embassy in The Gambia, the relationship between the two countries, going back to the beginning of the 80s as far as I remember, is very good,'' ambassador Ergin said, adding that it is the right time to improve the relations in almost every possible field from economic and trade to education and culture.
Meanwhile, Ambassador Ergin Soner served in various capitals, including Beirut, Moscow and Athens. Lately, he was the Deputy General Director for the Cultural Diplomacy at the Turkish Ministry of Foreign Affairs.
Read Other Articles In Article (Archive)