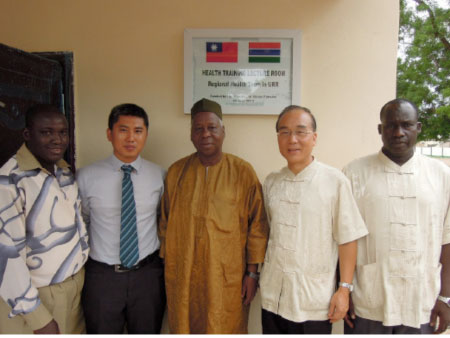 A newly renovated training and lecture room whose makeover was sponsored by Taiwan ICDF was recently opened at the Regional Health Management Team (RHMT) office in Basse in the Upper River Region.
The training room was opened on 28 June during an unveiling ceremony attended by H.E. Samuel Chen, Ambassador of the Republic of China (Taiwan), and Alhagie Omar Khan, Regional Governor in URR.
Minister of Health and Social Welfare and National Assembly Matters was represented by the Regional Director of Health Services.
The room, which can accommodates up to 50 people, not only provides the RHMT in URR with a suitable site at which to hold conferences, but will also serve as a training venue for health personnel.
Alhagie Sankareh, Regional Director of Health Services at the Regional Health Management Team in Upper River Region, said: "The training and lecture room will go a long way in improving the health system in the region by providing opportunity for training and conferences on health issues to take place for better health delivery services in the region, particularly on Maternal and Newborn health care and other health-related issues."
He assured that the RHMT will ensure that the facility is put into good use at all times and its maintenance shall be given the utmost consideration it deserves.
"We would like to thank Taiwan ICDF, the Embassy of Republic of China on Taiwan through the Ministry of Health and Social Welfare and National Assembly Matters for their untiring efforts in supporting and strengthening Gambia Government health system delivery through the efforts of our able President Yahya Jammeh who has placed health care delivery as one of his Government's top priorities in his development agenda through the provision of accessible, affordable and quality health care for all Gambians."
"We'll be very happy to see the use of this training and lecture room get underway," H.E. Samuel Chen said. "We hope it will bring many benefits to the health training system in URR in the near future."
The budget to renovate the room came from the Maternal Health Improvement Programme, which is being funded by the Taiwan ICDF. The programme, which has been operating for nine months, has already provided several training courses to around 180 health personnel, including 16 senior officers who accepted an advanced course in Taiwan.
In addition, nine maternal health check-up events have been held at health centres in URR as part of the programme, providing medical services to more than 700 expectant mothers.
Additionally, a "TBAs Training Workshop" for traditional birth attendants is due to be held between August and September, using the new training and lecture room as its venue.
Read Other Articles In Article (Archive)