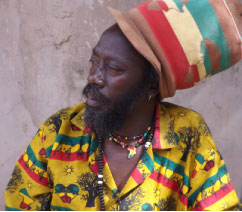 Back to Africa movement music promotion, a group of various international musicians, is currently touring the country as part of promoting the movement.
The tour is an extension of an international visit to African countries like The Gambia, Senegal and Ghana.
Briefing Entertainment recently at Friendship Hotel in Bakau, one of the leading delegates, Ramani Njie, a Gambian based in France, said the aim of Back to Africa Tour is to visit African countries to play music and contribute to the development of the African countries through projects implementation
"In this Back to Africa Tour, our objective is to build a centre where we can help abandoned children and children who come from poor families as well as to have an open studio where artistes can record, produce and learn skills.
According to the Gambian international music star, Back to Africa Tour has been in existence since 1997. "In 2012 we want to get the biggest tour in Africa; that's why I came with international artistes to The Gambia to see what we can do in playing our part into development projects," Ramani said.
On 21 December the foreign musicians performed at Brikama Jokor to entertain the crowd. On 25 December the show continued at Jokor West Field and on New Year's Eve, the foreign stars were at the Independence Stadium in Bakau to shake the stadium for the benefit of all music lovers.
"I came with different artistes from Jamaica, Ghana, South Africa, the UK, Switzerland and the United States of America," Ramani told Entertainment, saying Back to Africa movement is not only focusing on music but "we have development projects to help Gambian youths and we are asking for the government's support starting from the President".
Dr Din, a Jamaican residing in London, also said Back to Africa movement is out to help Africa and the idea is to help its people in the best way through music, adding that Jamaica's original home is Africa.
The international music star added that the team has a mission to complete, which is to help children with materials and technical knowhow.
"The children are the next generation and what is better than to upgrade the next generation," Dr Din said, adding: "I am here not for money but to see good things done."
Read Other Articles In Article (Archive)