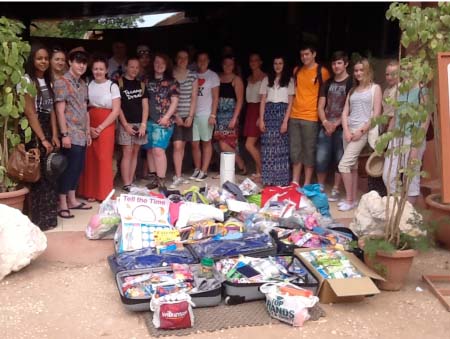 GOAL For The Gambia (Giving Opportunities to Achieve and Learn), a charity set up to support education and provide training opportunities, primarily for young people in The Gambia, has donated learning materials and other valuables to students in the country.
The charity was established in 2006 by one Kaddijatou Saidy-Sanyang (Sandy), who is married to a Gambian and they are currently sponsoring many students in various schools in the West Coast Region.
In an interview with reporters, Mrs Saidy-Sanyang said that since the inception of the organization they have made significant contributions to the education sector by sponsoring over 100 students from nursery to university level.
As part of their 2013 intervention, at the weekend the philanthropists from England distributed secondhand clothes, materials forhygiene, teaching and learning materials for lower and nursery kids in Kuloro Nursery School and Kitty Arabic School.
According to her, plans are in place to repair the roof of the school's classroom blocks, install new window shutters and build another new block consisting of 4 classrooms and an office in Kitty school.
She said that 26 students from Camel College at the weekend visited project sites and made donation to Kuloro and Kitty.
She noted that the students also came with their gifts such as pencils, exercise books, reading books, sports equipment, and craft materials to donate to students.
Perpetual Jones, a teacher at Camel College, thanked GOAL For The Gambia for the warm welcome they received and also for the tourist guide for their support.
She thanked the founder of GOAL For The Gambia Mrs Saidy-Sanyang for the initiative and her support to Gambians, particularly in the education sector.
According to her, she met Mrs Saidy-Sanyang when she first came to The Gambia for holidays three years ago, adding that during her meeting with Madam Sanyang, she also explained to her that she wanted them to work together and support the education of students.
She disclosed that Madam Sanyang's donation started when she saw a school in Kitty with empty building and thought of how she could help them in raising funds for the school, help the school to finish constructing the building and also help the students.
She added that GOAL For The Gambia started with one school but today the charity is sponsoring more than 100 students.
"We have been back three times to The Gambia. I and my husband have been raising funds for the school as well as pens, pencils, books, bags and other learning materials," said Jones.
The students are very much excited to visit The Gambia and bring gifts for students, Jones noted, saying they are hoping that next year's donation will be bigger than this year's.
"I am a teacher at Camel College in the United Kingdom. Together with my husband, we decided to come with twenty-six students to experience The Gambia and make donation as part of our contribution," she reiterated.
She revealed that the 26 students of Camel College contributed 250 pounds while Charlotte Henshall and her mother Caroline launched a fund-raising campaign and raised 930 pounds, which they have given to children in Kitty.
Charlotte Henshall and her mother want to sponsor other little girls in the school next year.
Eve McQueen said the donation "is wonderful" as students of Camel College are very happy to be in The Gambia on an exchange visit to help.
Henshall, a student, said: "We are very happy to be in The Gambia and help Gambian students in their education. Gambians are very friendly and nice people."
Read Other Articles In Article (Archive)