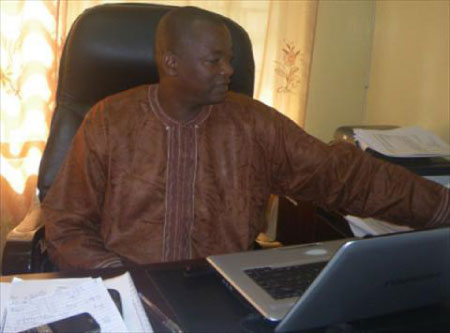 The Governor of North Bank Region, Lamin Queen Jammeh, recently opened a newly constructed slaughtering abattoir for the community of Barra and its catchment areas.
The slaughtering slaps was constructed by the Gambia Livestock Marketing Agency (GLMA).
The agency is mandated to build centre for butchers in the regions and has already set up centres in many parts of the country such as Basse, Jarra Soma, Brikama and Yundum.
The handing over of the centre was attended by the butchers, alkalolu and a cross-section of local authorities in the North Bank Region.
In his speech, the governor of North Bank Region expressed appreciation with the constructed slaughtering slaps for the community of Barra and its catchment areas.
He expressed hope that with the construction of the new centres the problem of theft of animals will be reduced in the regions.
He then hailed the Gambia Livestock Marketing Agency for their effort in ensuring the slaughtering slaps are constructed in Barra.
He went further to commend the Anti cattle Rustlers Association for its tireless effort in making sure that cattle owners discover their stolen animals in the region.
He also stressed the importance of meat hygiene and urged the agency for its agents to monitor the sale of meat fit for consumption.
He also challenged both the community and the butchers to organize themselves for the sustainability of the centre.
For his part, the chairmen of the GLMA, Denis Carrol, hailed the community of Barra and the butchers for their cooperation in getting this centre operational, adding that constructing the centre for animal slaughtering is one thing and sustainability is another.
Mr. Carrol further told the community of Barra that the centre is ready for operation but it is now left with the community to make good use of the facilities provided to them by the agency.
He added that the agency is doing every thing possible to address the concerns of the butchers in the country.
With due care this centre will yield dividend if it is well maintained, he said.
The police commissioner for North Bank Region, Mamadou Sowe, hailed the GLMA for setting up the centre, which he said would reduce illegal slaughtering of animals in the regions.
This centre will greatly help the police to reduce some of their burden in tracing and discovering some of the stolen animals in the community.
He further advised the butchers to maintain the centre, to help them in their work.
For his part, the regional president of the Anti-cattle rustling association in North Bank Region, Samba Gibbel, thanked the management of the GLMA for their vision in making sure slaughtering slaps are available in the regions.
Since the inception of their association, Mr Gibbel noted, the issue of theft, particularly in North Bank Region, has become a thing of the past.
He also hailed the Barra Alkali and the village development committee for giving them the land to put up the structure of the centre.
Read Other Articles In Article (Archive)