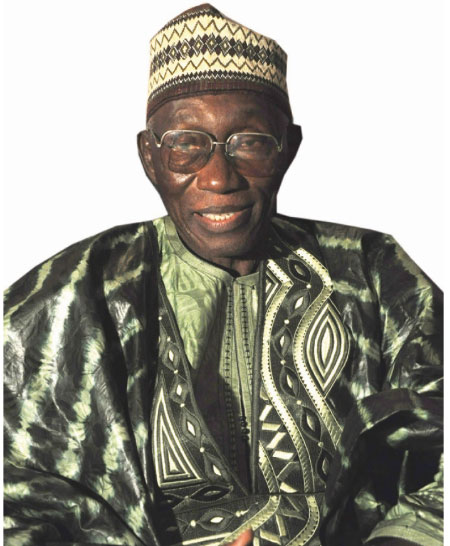 Following the dissolution of the Gambia Football Association (GFA) executive, the Ministry of Youth and Sports have announced the appointment of an interim committee to steer the affairs of the GFA.
Headed by the GFA's honorary life president Alhaji Ousman B Conateh, the 14-member committee was named after last Friday's dissolution of the executive of the football association for what officials said was government's lack of confidence in the executive committee of the GFA headed by Seedy MB Kinteh.
Alhaji Omar Sey, former GFA president, is the vice chairman of the interim committee, while businessman Salifu Jaiteh, a former GFA second vice president, are among the committee members.
Abdou Salam Jammeh, former member of the dissolved GFA executive committee, has been retained as acting Secretary General.
The defunct GFA executive committee members were elected into office on 31st December 2009 to run the affairs of football in the country for four years.
Seedy M.B. Kinteh, served a first four-year tenure in office beginning in 2005 as GFA president, and was re-elected president in 2009.
The dissolution of the GFA executive committee coincided with the Scorpions' 2-1 loss to Algeria in Banjul last week, and was said to have stemmed from recommendations forwarded to the Ministry by a taskforce on football established to map out the way forward for Gambian football.
A press release signed by the permanent secretary at the Ministry of Youth and Sports, Mambanyick Njie, gave the names of the members of the GFA interim committee as follows:
1.         Mr Ousman B Conateh               -            Honorary Life President GFA - Chairman
2.         Mr Omar Sey                             -           Former President GFA - Vice Chairman
3.         Salifu Jaiteh                               -           Former Second Vice President
4.         Mr Remi Joiner   -                      -           Banker/Accountant
5.         Mr Cherno Marena                     -           Principal State Counsel
6.         Mr Furmus Gomez                     -           Upper River Region
7.         Mrs Sainabou Kujabi Njie           -           President – Sports Journalists Association of The Gambia
8.         Mr Joe Kalamba                        -           KMC
9.         Mr Lamin Jawara                       -           North Bank Region
10.        Mr Cherno Touray                     -           Former Director of Youth and Sports
11.        Mr Sulayman Joof                     -           Western Region
12.        Mr Kebba Yoro Manneh             -          Central River Region
13.        Ebou Sambou                           -          Lower River Region
14.        Abdou Salam Jammeh               -          Ag Secretary General
Read Other Articles In Article (Archive)