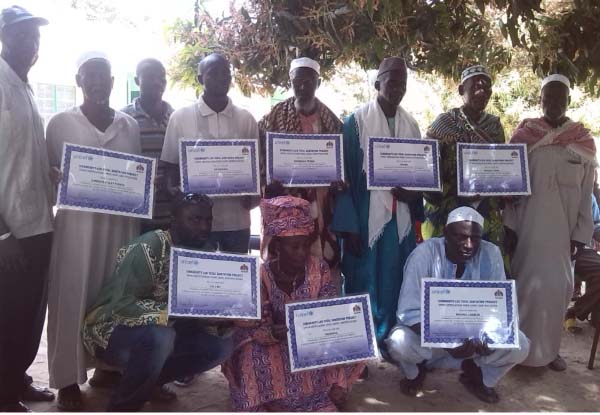 The Ministry of Health and Social Welfare (MoHSW) has certified forty communities within the West Coast Region with the open defecation-free status through the community-led total sanitation concept.
Addressing the gathering at a ceremony in Barrow Kunda village in Foni Kansala district and Ndemban Tenda village in Foni Berefet district over the weekend, Wandifa Drammeh, a senior community development officer, explained that the open defecation-free trials began in June 2014 in the regions, with the assessment of 52 communities out of which 20 gained open defecation-free status.
He urged the remaining communities to join in consolidating the gains in hygiene in the region.
Lamin J. Jorbateh, the West Coast Regional health promotion officer, said that the communities concerned earned credit in the abandonment of open defecation, with the provision of latrines to all households, environmental cleanliness and personal hygiene.
He noted that his department is looking forward to realising the health benefits of the commitment on the side of the certified communities, as a further step.
The deputy director of Health Promotion and Education, Sandially Trawally, said the Ministry of Health aims to encourage and sustain an open defecation-free society, with the help of UNICEF and other partner organisations.
He advised the beneficiary communities to do their best to retain the goal of the open defecation-free concept.
The deputy chief public health officer environment unit, Abdoulie Joum, noted that the certificate given to the communities in the WCR, is a challenge for them to ensure that every individual uses a toilet and disposed all waste properly, as well engage in regular hand-washing.
Saikou Suwareh of the department of community development stressed the dangers of open defecation, explaining that human waste could cause serious ailments to people through the process of the food chain with animals.
The chief of Foni Kansala, Alhaji Momodou Lamin Jarju, and the Alkali of Ndemban Tenda, Janko Gibba, both commendedthe Ministry of health and partners for the award, and urgedtheir respective communities to ensure the sustainability of the gains made in keeping not only their toilets clean at all times, and also the environment.
The move, they added, would encourage the remaining communities to emulate the awarded communities in their drive to eradicate open defecation.
Read Other Articles In Article (Archive)