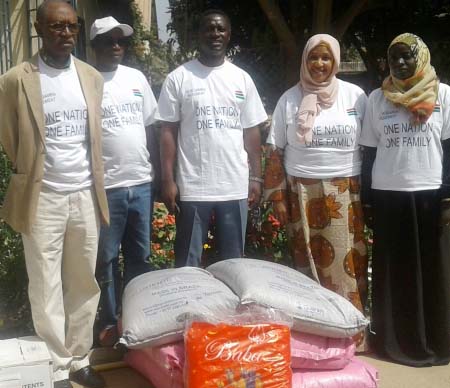 The New Gambia Movement, out to transform The Gambia into a politically enlightened and empowered Family Nation, on Saturday donated bags of rice, sugar, oil and packages of biscuits to Serrekunda mosques and the Catholic Church called Charity Sisters.

The New Gambia Movement's primary objective is to help the needy and less-privileged in society, as well as to transform The Gambia into a politically enlightened and empowered Family Nation in which "the people are the parents, the children and the government.
In her remarks on the occasion, Nahla Tambedou of the New Gambia Movement (New Gambia) said that after 30 years of the First Republic and 22 years of dictatorship, The Gambia remains mired in the irreconcilable contradictions of the colonial legacy.
"The colonial encounter brought a new political system (the nation state) and transposed it upon our traditional political culture.
"At independence in 1965, a western parliamentary system was superimposed on our traditional African perceptions and understandings of the meanings of government and leadership."
She continued: "We intend to help transform The Gambia into a nation of enlightened and empowered citizens who will be able to democratically exert control over their leaders, and who will never allow themselves to be marginalized, oppressed, or denied their rights as Gambians and human beings with certain inalienable rights.
"Political power rightfully belongs to the people. But the people can only enjoy and exercise that power if they are adequately knowledgeable in key aspects of the political doctrines and institutions affecting their lives.
"It is, therefore, a cruel paradox that governments whose existence cannot be imagined without the people would turn around and reduce the people into powerless and oppressed nonentities without any agency to assume their rightful status in society."
Nahla said the New Gambia Movement places human and intellectual resources and energies at the forefront of its national project, with a view to building popular political capacity and delivering sustained benefits to the nation.
"We are strongly convinced that as long as the people of a country remain unaware of and, therefore, unable to fully exercise their legitimate power over their government, they will remain vulnerable to the machinations of unscrupulous politicians and tin pot despots like the one we have suffered for the last 22 years."
Development is not necessarily about building infrastructures, though we certainly appreciate the importance of infrastructure as part of development," Nahla said. "We believe that development is more about building minds and empowering people."
The result has been a tragic brain drain, but according to Nahla: "Our brilliant minds are driven off into exile or choosing to relocate to distant lands where our knowledge and skills are put to use in the service of societies only too happy to increase their own fund of intellectual resources.
She added: "Meanwhile, our national mind is starved, our creativity is stifled and our development arrested."
Pierre Gomez, a member of the movement, also said that The New Gambia Movement recognizes that bringing about the kind of positive fundamental transformation the people need in The Gambia, requires much more than a mere change of individual leadership or government, however important that is.
Over 50 years of independence, said Gomez, The Gambia's last two governments had done nothing to correct this anomaly.
The overriding consequence is that most Gambians remain politically disempowered and unaware of the crucially important differences between constitutional authority and autocratic rule of the colonial and pre-colonial sort.
"These political misnomers, used over and above their simple linguistic inferences, carry corruption-enhancing and power-abusing connotations that are exploited by people in power for their own selfish interests and to the detriment of the Gambian people," said Gomez.
Read Other Articles In Article (Archive)