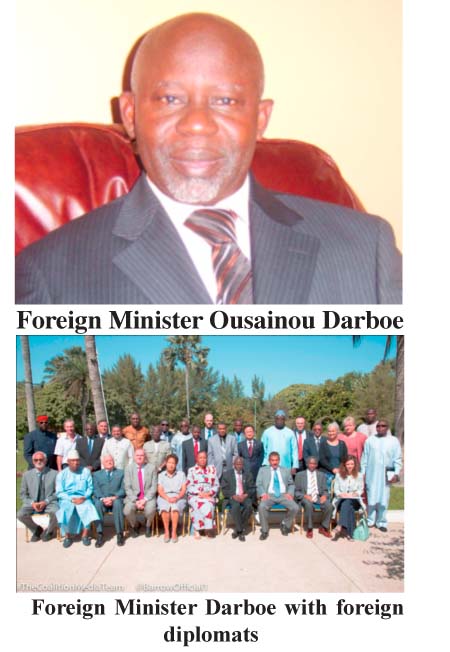 The new Minister for Foreign Affairs, International Cooperation and Gambians Aboard, Ousainou Darboe, Thursday met with foreign diplomats at the Kairaba Beach Hotel.

Minister Darboe thanked the various governments and organizations that ensured the peaceful transition to a new political dispensation in The Gambia
He said with the help of foreign missions and their countries, the Gambian people were able to ensure their elected leader and new government came into effect in accordance with the declared outcome of the December 1, 2016 presidential election.
He further thanked ECOWAS, the African Union and the United Nations, among others, for the indefatigable and coordinated leadership they demonstrated in finding a durable solution to resolving the political crisis in the country.
He, therefore, thanked all of them with special appreciation to the Republic of Senegal for standing resolutely by The Gambia at such a critical juncture in the history of The Gambia.
He hinted that the past few years had seen the self-imposed isolation of The Gambia, resulting in an uneasy relationship with some governments and institutions with which the nation has bilateral relations.
"We will mend broken ties and deepen our cooperation with all of you, and urge your governments to resume development cooperation with the new government as it embarks on the task of socio-economic transformation."
President Barrow has set up a think-tank that will soon advise the government on policies and programmes that will usher in a trans-formative agenda for economic growth and job creation, as the youths need decent employment, Minister Darboe further told diplomats.
"All of you can help in that drive. We will count on you," he said.
Minister Darboe said as a the new administration, the government of The Gambia including the Minister of Foreign Affairs is committed to the agenda that is aimed at restoring the rule of law, good governance and the creation of equitable socio-economic development for its citizens.
"To achieve those, we will prioritise the assessment of all our institutions, in terms of systems, processes and human resources capacity with the aim of strengthening them to ensure that we remain firm on the path to sustainable development, and embark on reforms that will usher in an era of democracy and respect for human rights."
He added: "We will reclaim our status as the human rights capital of Africa, and we will endeavour to reform our civil service and security sector and, as we undertake these reforms, we will need your support and policy guidance."
Minister Darboe said further that The Gambia is also poised to engaging with its partners in establishing a Truth and Reconciliation Commission that "will hopefully bring the closure to the 22 years of tyrannical rule".
Read Other Articles In Article (Archive)