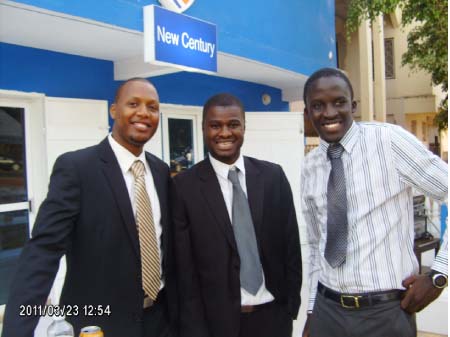 The Directors and staff of New Century, Gambia's premium online business directory, online marketing and internet search engine, on Friday unveiled their new website called "Findit.gm" Directory to their costumers.
The unveiling ceremony was held at OZIO Lodge in Fajara. The red carpet affairs ceremony displayed all the exciting features on New Century's website which include: social networking, discussion forums, job centre and many more surprises.
Introducing the new programme to their costumers, Kalifa Faal, chief operations affairs officer at New Century, said Findit.gm is a new directory that has started in The Gambia.
He added that findit.gm is a directory with other functionalities to promote local and international businesses with their services.
"Part of our aims is to become a company that is going to innovate new ideas in The Gambia, and as part of our innovation process also, we have been doing various researches in terms of information availability in The Gambia," Mr Faal said. 
He said that as part of their promise to introduce new technology, they have decided to start with Easy Access to Information Program (EAIP) and with this program they have a taskforce that is going to actually have information and design a database that would make information access very easy.
Also on their website, Mr Faal said Gambians can have trust and in their private and professional life around and with their new website, they have functionalities such as directory listing, location services and business descriptions on what they do, as well as using the Google Act Engine to locate businesses in The Gambia.
He said Findit.gm is fully integrated with Facebook and all other social networking websites, adding that there are several benefits of listing one's business on Findit.gm both nationally and internationally.
According to Mr Faal, Findit.gm is constantly updating information to their costumers for effective subscription and their services.
"It is the most effective and yet inexpensive way to market their services with News Century's new website; thus it is very environmentally friendly with more benefits and that Findit.gm was built on robust architecture with a guarantee of maximum uptime," he said.
At New Century, he went on, they have been constantly working on innovating new ideas to connect people all together; so on Findit.gm Jokor, they have a social network that they created for Gambians so that they can connect with their families and friends in The Gambia and abroad, share their photos with their friends and families, streamline their facebook accounts, update their starters, and change their own personal avatar with New Century's avatar creator.
On the use of internet in The Gambia, Mr Faal gave statistics of the number of people who used internet in 1996, saying it stood at 0.1 per cent, and in 2009 it was 6.8 per cent. He said the use of internet in The Gambia is growing at a very high rate, adding that it is a very important facility for advertisement.                        
Read Other Articles In Article (Archive)