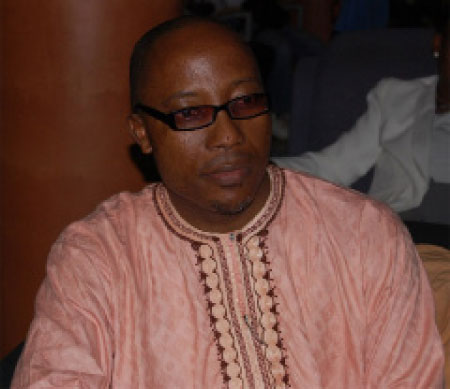 The Keys to Unlock Marriage Success, authored by Tony Hemjirika-Smart, a journalist and media consultant in The Gambia, is the latest publication out to build enduring and joyous marriages while mending wounds in relationships.
This insightful piece of work was launched on Friday 13 July 2012 at the Djeliba Hotel in Kololi, where dignitaries from all walks of life assembled to grace the occasion.
Marriage, a personal, societal and sacred union under God, is an institution today undergoing serious threats and challenges from many quarters, especially in recent years.
Many therefore say marriage is dying, more so that it now appears that marriage is now like an item in the market where the highest bidder takes the stuff home.
But The Keys to Unlock Marriage Success is here to help address most of the challenges in marriages today through the book's well researched and succinct topics such as: Make God the head of your marriage, Never expect a perfect marriage, Remember to keep dating your partner, Never give in to divorce, Always communicate, Close the chapter of your past life, Be the best friend to your spouse, Always shun adultery, and other edifying lessons to uphold and implement.
"The Keys to Unlock Marriage Success comes well researched and packaged with a passion borne of deep interest and commitment to family issues owing to which we have in our hands a gem that all couples married or intending to marry cannot but find very useful," said Dr Davis Nwakanma of the Medical Research Council, who wrote the foreword to the book.
"The rate of separation and divorce is on the increase every year promoting those who have fallen victim to re-examine the roles played by the people leading the campaign for marriage success," Mr Smart, author of the book, said, adding that this situation has left people wondering whether it is really worth it going into marriage at all if there are no guarantees that it could last a life time or at least, a very long time.
"Notwithstanding the perception of the people," the marriage and relationship counsellor said, "marriage is still honourable and still the only institution that makes someone complete as a man or woman."
Mr Smart, who is also a talk-show host and radio presenter, added: "[Marriage] is still the only institution where everyone going into it is expected to prepare his or her mind to remain a student for life and to grapple with all the challenges that go with it."
The Keys to Unlock Marriage Success, which also gives the reader an apt lesson on setting goals for marriage, can be purchased at Timbooktu Bookshop on Garba Jahumpa Road and other bookstores in town.
Read Other Articles In Article (Archive)