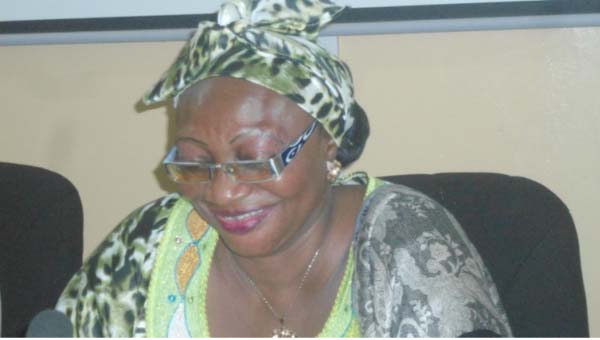 A two-day capacity building training on reporting cases of Gender-based violence (GBV) for Network of Journalists on Population and Development was Monday held at the NaNA conference hall.
The training, whichbrought together journalistsfrom both the print and electronic media, was organised by the Women's Bureau.
In her opening remarks, Binta Jammeh-Sidibeh, executive director of Women's Bureau,said the role of journalists in the struggle to end violence against women and girls is crucial and as such they deemed it necessary to organise the training for journalists.
The bureau and partners over the years had conducted series of activities to strengthen awareness on gender-based violence, she added.
She said the training was meant to build the capacity of journalists to be able to better reporton gender-based violence and violence against women cases, as well as to better understand and effectively report on gender and human rights-related cases.
She described gender-based violence as very insidious menace, adding that it had proven difficult to be addressed as it concerns way of life which includes persons, families and the community at large.
She noted that the training marked a new beginning towards strengthening the partnership between the bureau and journalists, especially the Network of Journalists on Population and Development.
Madam Jammeh-Sidibeh saidthat over the years the Ministry of Women's Affairs and its partner institutions have been highly committed to limiting or stopping all forms of gender-basedviolence.
The ministry had taken bold steps in responding to its obligations after signing their international and regional conventions, protocols and other human rights instruments to promote and protect the rights of women and girls, she stated.
"They have also developed policies and laws such as the Women's Act 2010, the Gender and Women Empowerment Policy 2010 to 2020, Domestic Violence and Sexual Offences Act 2013," she said.
The Women's Bureau executive director further said thatthe Office of the Vice President and Ministry of Women's Affairs had committed itself to urgent and concerted action aimed at preventing gender-based violence, sexual violence, as well as ensuring appropriate care and fellow-up for victims/survivors and also working towards holding perpetrators accountable.
To achieve this, she added, there was need for coherent, participatory and multi-sectoral approach to prevent and respond to gender-based violence.
She noted that gender-based violence is common in The Gambia and in most cases not reported in the media or at the police stations because of the culture of silence, fear of authorities and the urge to protect families.
She therefore called onparticipants to give maximum attention to the two-day training to have adequate skills in handling and reporting GBV cases.
Madam Fatou Kinteh, UNFPA representative, said: "Gender-Based Violence is any act or violence against a man or women based on his or her sex and one of obstacle to the advancement of women, which itself is a human right abuse."
The Local UN diplomat further noted that despite government signing of various international and regional instruments for the elimination of all forms of violence against women and girls, women and girls rights continued to be violated in The Gambia and other parts of the world.
She urged journalists to learn and report on gender-based violence as they perform a crucial role in informing masses about such abuses or violations.
Mr Kajali Sonko, deputy executive director, Women Bureau, project and programme, also urged the media to take the training seriously as they are important stakeholders in promoting and protecting women's rights.
Read Other Articles In Article (Archive)