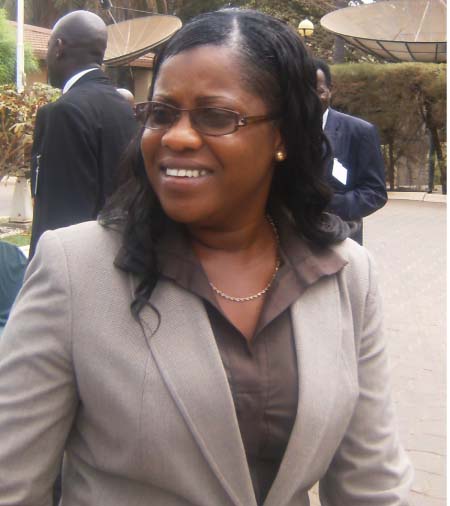 The Minister of Tourism and Culture, Fatou Mas Jobe-Njie, Monday led a delegation to the village of Juffureh in the North Bank Region as part of the ongoing celebration of the Roots Homecoming Festival 2014.
Speaking to journalists on arrival, the Governor of the North Bank Region, Lamin Queen Jammeh, thanked Minister Fatou Mas Jobe-Njie and her delegation, saying celebrating the Roots Homecoming Festival was something very important for the Gambian people.
It would also bring connection for The Gambia and the world at large, he added.
Governor Jammeh told journalists that culture is very important as without it people are without identity.
He encouraged Africans in the Diaspora to visit not only during Roots Homecoming Festival; they should also endeavour to visit Africa and even stay if situation permits them.
Hassoum Ceesay, director of Copyright, National Centre for Arts and Culture, said the homage to Juffureh was one of the highlights to celebrate the International Roots Homecoming Festival.
The whole idea of the roots festival, he noted, started in Juffureh and Kunta Kinteh Island because it was Kunta Kinteh's story that was highlighted by Alex Henry in his group, who came out in 1976/77 with a film, which caused the Gambia Government in 1996 to work towards putting a festival to recall the legacies of the Trans-Atlantic Slave Trade and Kunta Kinteh.
He said that over fifteen million Africans departed as slaves to the New World and almost none of them had their names mentioned in history but thanks to Alex Henry's research, Kunta Kinteh at least came to live as one of those fifteen million people.
The Gambia Government decided that this must be celebrated through a festival which would allow descendants and Africans from the Diaspora to come back to The Gambia to relive their culture, to relive their history and to pay homage to Kunta Kinteh as well as to all those fifteen million people who were forcibly sold and transported to the New World.
Mr Ceesay said the Gambian people would benefit from the festival because there is cultural manifestation through which they could preserve their culture and also promote and disseminate values of their culture among Gambians and Africans in the Diaspora.
"This is what we call cultural diplomacy, using the festival to win friends and attract them from abroad," Mr Ceesay.
Read Other Articles In Article (Archive)