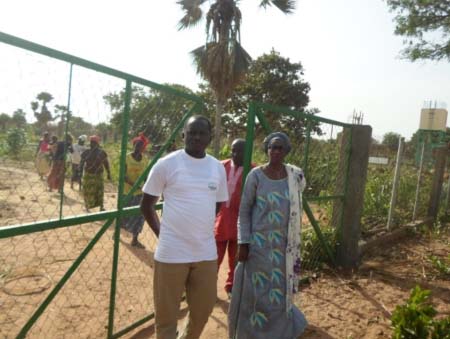 The executive director of National Environment Agency (NEA) recently led a delegation of project stakeholders to some of the sites of the livelihood support component of a four-year project, devised to enhance resilience of vulnerable coastal areas and communities to climate change.
The livelihood support component was implemented by the NEA and bankrolled by UNDP through the Global Environment Fund (GEF) Coastal Resilience project.
The alternative livelihood component of the project was aimed at easing climate stress in affected local coastal communities whose farmlands and rice fields are affected by the phenomenon of climate change.
NEA Executive Director Ndey Serin Bakurin and her entourage visited some of the benefiting communities of Missira in Lower River; and Bondali-Tenda and Bintang villages in the West Coast Region.
The delegation was received in Missira village by the Alkalo, Landing Camara, and his jubilant folk of women.
In Missira, Madam Bakurin reaffirmed NEA's continued support to improve the status of the village garden with new extension and diversification programme.
The project coordinator, Dodou Trawally, said the garden will additionally benefit from the construction of a house, store, toilet, kitchen and a waiting shade for lactating mothers and children who usually accompany their parents.
In Bondali-Tenda, Alkalo Alhagie Camara and village women welcomed the visitors to the project site.
The project coordinator told the villagers that the frequent invasion of monkeys into the Bondali-Tenda garden will now be history as the project is to provide an anti-monkey razor blade wire to fence the entire garden.
With the extension of the water facility with a new borehole and sixteen extra reservoirs, the Bondali-Tenda garden can now host banana plantations, trees and other plants that can benefit and improve the livelihood of the local community.
The garden will also further benefit from construction of a house, store, toilet, kitchen and a waiting shade.
Bintang village garden was the third horticultural project visited.The village garden is to benefit from an extra borehole with twenty reservoirs, a house, store, and kitchen.
The gardens provided in all the tree villages are equipped with reservoirs because they are designed to be utilised during the dry and raining seasons.
In addition, all the gardens are fortified with modern fencing techniques that can serve the communities for years.
The final port of the call of the NEA executive director and her encourage was in Brikama, where they inspected the newly constructed fiber-boats that are to be transported to Missira and Tendaba villages.
Already, NEA has purchased three new 18 meters fiber boats equipped with all necessary gears for Tendaba fishing community, as part of initiatives to improve the livelihood of the local fishing community.
The project has also bought another fiber-boat with all equipment for Missira which will ferry people crossing the tributary between Missira and Bintang villages.
Read Other Articles In Article (Archive)