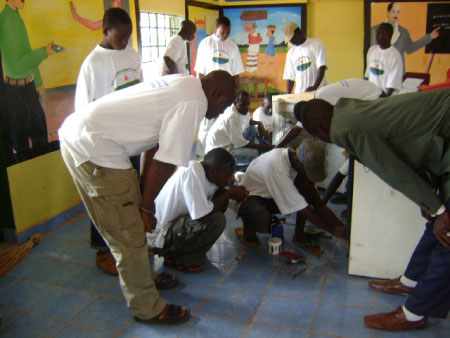 The National Environmental Agency (NEA) in its quest to phase out the importation and consumption of Ozone Depleting Substances (ODS) as enshrined in the Montreal Protocol and the Vienna Convention, recently organised a three-day training workshop for refrigeration technicians in Lower River Region.
The regional training that took place in Pakalinding attracted over 25 participants drawn from the Regions.
This latest training is among series of its kinds conducted and organised by the NEA for refrigeration technicians throughout the country
In his opening remarks on the occasion, Deputy Regional Governor Wally Sanneh said Ozone layer is the primary protection of the earth against the harmful ultra-violet radiation from the sun that has adverse effects on human and animal health, marine and terrestrial eco-systems.
Deputy Governor Sanneh however disclosed that the continuous emission of Chloro-Fluoro-Carbons (CFCs), Halons and Methyl Bromide would deplete the ozone layer and would result to more severe environmental and health problems.
He further disclosed that the Government of The Gambia has over the years taken giant steps towards the reduction and ultimate elimination of ODS through a number of measures.
Samba Bajie, ODS programme Officer at the NEA, disclosed that the training aimed at strengthening the capacities of refrigeration technicians to enhance detection and retrofitting of ODS.
He further disclosed that ozone layer is a natural gas layer that is providing a protective shield for plant and animal from the ultra-violet radiation of the sun that can be particularly harmful to all living organisms.
According to him, these harmful effects include increase in skin cancer, eye cataracts and blindness; suppression of the human immune system; damage of natural ecosystems, and climate change.
Stressing on the Gambia government`s political commitment in phasing out CFCs, Badjie revealed that The Gambia has joined the international community and ratified the Copenhagen and London Amendments to the Montreal Protocol in 1992 and 1995 respectively.
The programme officers therefore urged participants to take the training seriously and disseminate the knowledge and skills gained from it to others.
The Gambia over the years has taken giant steps towards the reduction and ultimate elimination of ODS through a number of measures including the training of technicians, he pointed out.
Momodou Mendy, senior lecturer at the GTTI who facilitated the training, noted that by the end of the training, participants are expected to clearly understand what ozone and ozone depletion is all about and would understand the reason they as technicians must join the rest of the world to protect the ozone layer by phasing out CFCs.
NEA Regional Environment Officer Borry Mansa Demba called on technicians and non-alike to take up this noble profession seriously and adhere to its ethics.
Sheikh Alkinky Sanyang, Environmental Education and Communication Officer at the NEA, says nature is at conflict with mankind.
He therefore appealed to participants to use environmentally friendly activities and to make the planet Earth the only suitable and lasting home for generation yet unborn.
Read Other Articles In Article (Archive)