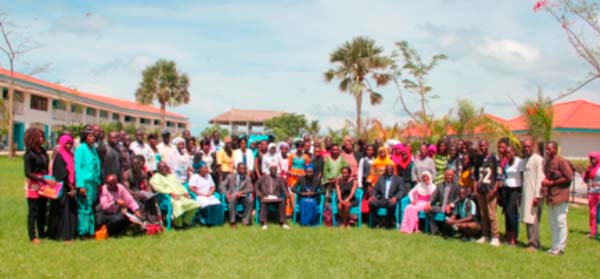 The Gambia National Olympic Committee (GNOC) Women and Sports Commission, in its stride to greatly raise women and girls' self-esteem and inspire them to continue to train, compete, develop specialized skills in governance, coaching and refereeing and with a view to implementing the principle of equality between men and women, is organizing its 4th Women and Sports Festival with the theme: "PROMOTING OLYMPIC VALUES IN SPORTS FOR WOMEN AND GIRLS".
The festival, which kicked off on Tuesday 29 September, will run until 3 October 2015. It will feature one-day national forum, an Olympic Wrestling competition for girls, 3 on 3 Basketball competitions and a Tug-of-War competition for girls and women.
The one-day forum held on Tuesday at Djembe Hotel (former Jarma Beach) brought together 110 sportsmen and women, sports associations, female sports veterans, sports administrators and the media.
The daylong activity was held on the topics of regular physical activity for the enhancement of physical and mental health and wellbeing, promoting self-esteem and employment, as well as the triumphs of women and girls in sports.
Speaking at the opening ceremony, the president of the GNOC, Alhaji Momodou Dibba, said the NOC with the support of the International Olympic Committee (IOC) has placed a lot of emphasis on the participation of women in sport.
He added that within the GNOC policy of sports development in the country, this event marks a great achievement for them as they strive to encourage more women participation in sport.
He said sport is one of the important structures that can play a significant part in changing the contemporary social concept of women in the society and it is of great value to people and encourages mental and physical vigour, courage and tenacity, friendship and respect and other valued qualities.
The GNOC boss added that "we must see women in sport as not being there for show but as highly skilled and interested persons" matching their abilities against other professionals.
"In The Gambia today women have greater opportunities than ever before to engage in sport and recreation up to professional level as well as taking responsible positions both in sporting structures and in leadership positions," he said.
Marcel Mendy, the executive director of the National Sports Council, hailed the efforts and achievements of The Gambia National Olympic Committee in the development of sport in The Gambia, adding that the structures and committees that the GNOC has for the development of women and girls' sport are wonderful and would also help in achieving their challenges.
He told women and girls participants to use the platform to bring changes for development in sports, adding that there is need to have more women in sport.
Beatrice Allen, Gambia's IOC member and first vice president of GNOC who also doubles as the chairperson of ANOCA Women and Sports Commission, said human development is about the formation of human capabilities, such as improved health, knowledge and skills; and, how people make use of their acquired capabilities for productive purposes, leisure, or for socio-cultural, and political affairs.
She said that all these concepts are geared towards addressing the concerns of the ordinary people, especially women and girls, who are normally the target of development programmes, but are forgotten in development planning, implementation and evaluation.
According to her, the Olympic Movement was created based on values entrenched in the dignity of the human being, fair play, character building, self-respect, respect for others, team spirit, peace and solidarity.
She added that women and girls have limited access to participate in sports, even though they form half of the world's population. She nonetheless acknowledged that there has been remarkable increase in the participation of women in national and international sports, but not in sporting structures where decisions are made, and where leadership roles are played, saying that such tendencies bring about women's invisibility in the development process and relegate women to the back seat.
Mary Samba Christensen, chairperson of the GNOC's Women and Sports Commission and also a bureau member of the NOC board, told the forum that sport is of great value to people and knows no boundaries.
In 1998 in The Gambia, she said that to sensitise the general public about the importance of women sports and to encourage women to actively participate in sport, the GNOC organised the first-ever women and sports seminar, soon after which the NOC, in line with the principles of the Olympic Charter and as part of its responsibilities, set up a women and sports commission to promote women and sport in the country.
Christensen said GNOC has over the years launched a lot of initiatives, one of which is the introduction of a Women's Sports Festival that serves as a mechanism for public awareness and appreciation of women's involvement in sports-related activities.
Meanwhile the festival will continue today Thursday 1 October 2015 with the Tug-of Warand WrestlingCompetition for Girlsat Serekunda East Olympafrica Center starting at 9a.m.
It will continue on Saturday 3 October 2015 with the 3 on 3 basketball competitions for Upper Basic Schools and closing at the Independence Stadium Basketball court starting at 2.00pm.
Read Other Articles In Article (Archive)