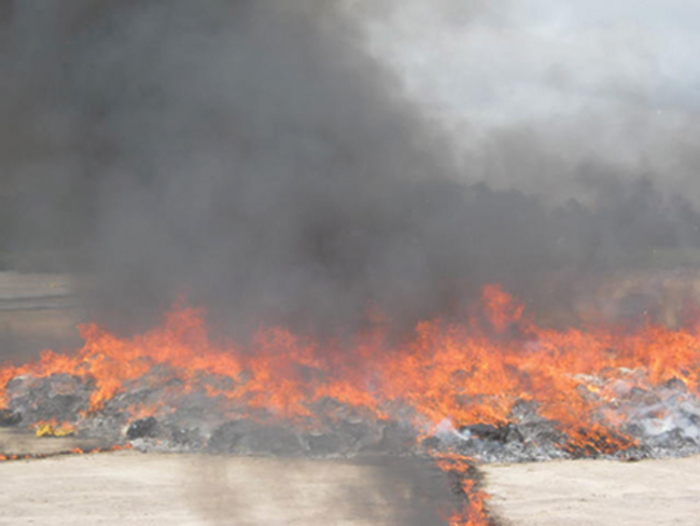 The National Drug Enforcement Agency (NDEA) yesterday embarked on a public drugs destruction exercise in a bid to show what its officials said was its continuing commitment in the fight against illicit drugs in the country. 
The exercise, held at the Old Cape Road in Bakau and witnessed by diplomats from the US, UK, Venezuela and Taiwanese embassies, as well as the WHO Gambia representative, saw the destruction of 3 tonnes, 5 kilos and 47 grams of cannabis, 8 kilos and 2 grams of cocaine, and 20 grams of heroin.
However, the two tonnes of cocaine said to worth US$1 billion that was seized in Bonto in May 2010 was not destroyed due to its huge concentration.
The amount, according to Benedict Jammeh, executive director of the NDEA, is too huge to burn in the open air due to its concentration, which amounts to 85%.
"The agency in consultation with its partners is working for the procurement of an incinerator for the destruction of the two tonnes of cocaine. Once the incinerator is available, the public will be duly informed of the destruction of the two tonnes of cocaine," Jammeh said in a statement delivered during the destruction exercise.
The exercise, he said, is historic and shows that the Gambia government and the NDEA are serious about the fight against drugs.
"When drugs cases are successfully dealt with in court, it becomes mandatory on the part of the agency to show the public the final destiny of these drugs," he said, noting that the destroyed drugs were not found in a foreign country, but were all seized in The Gambia from nationals and foreigners in the country.
"This means that as a nation, we have an uphill task in the fight against drugs," he added.
Drug abuse and trafficking, he went on, continued to be of great concern in The Gambia, which has prompted the NDEA to wage a persistent campaign on all fronts to curb the menace from the society.
"Allowing young people to peddle in drugs and drug cartels to traffic in our neighborhoods is counter-productive and dangerous. It is the duty of all of us to be vigilant so that collectively we can wipe out drugs from the face of this country, and for prosperity," he further stated.
Dr Abubacarr Senghore, chairman of the NDEA board of directors, said it is customary that when drugs cases have been successfully dealt with in courts, the agency would organize a public destruction of these drugs.
This, he added, shows the international community that the Gambia government is very serious in its drive to make The Gambia a drug-free state.
Prior to the destruction, the drugs were tested before the gathering to authenticate them.
Read Other Articles In Article (Archive)