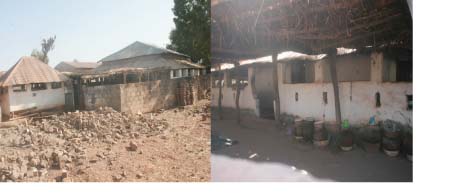 The National Centre for Arts and Culture (NCAC) has billed a mosque in Sami Pachonki for the Islamic Scientific Educational Cultural Organization (ISECO) list in the interest of documenting historical authenticity and adding outstanding contribution to knowledge, learning and input in Islamic and human cultures in general.

Located in Sami Pachonki, Central River Region, the old mosque was built in the 1840s. Though, the over 173 year-old structure might not be the oldest, it is one of the oldest in The Gambia that still retains its architectural designs since construction till date.
The mosque, as narrated by Hassoum Ceesay, a historian and also the director general of the National Centre for Arts and Culture, the Sami Pachonki mosque could date back to the 1840s and that its uniqueness and standing structure is just amazing.
The architecture, he explained, is made out of mud, which definitely shows that the mosque is quite old.
"Secondly, the pillars both inside and outside supporting the mosque are architectural works. Thirdly, the use of wood materials for the rafters and as well as the décor are all made from woods and never changed till date."
Establishing more facts about the mosque, Ceesay maintained that a historian in the village - Oustaz Ceesay, who confirmed that from the evidence passed on to him by his ancestors, the mosque was consecrated in 1848. "Definitely, it was founded in 1840 in Sami Pachonki in Sami District but became use in 1848."
"Looking at the architecture and the fact that it is still in use and the functionality also, we think it should be of interest to ISESCO for them to consider and accept it among the sites in The Gambia which contribute to Islamic history and heritage," he added.
He explained that NCAC under the Ministry of Tourism and Culture (MoTC) is not only concentrating on Sami Pachonki mosque, but that there are still other mosques of such in Tobawoli, Sutukoba and somewhere in Niumi that are over hundred years old that could be considered for inclusion in Islamic Heritage Sites.
Meanwhile, the mosque meets all requirements that can make it be enlisted into ISESCO for it to derive other benefits from Islamic Scientific Educational Cultural Organisation like others.
"Since the mosque was consecrated from 1848 to date, the worshippers in the mosque have been led by fifteen imams as documented by the community while the mosque having located behind the graveyard for the past imams of the mosque and as well as the alkalolu of the village "a sign that they have respect for their imams," he added.
Meanwhile, Islamic Scientific Educational Cultural Organisation (ISESCO) brings together all members of OIC and they are to develop a list of sites that have special relevance to Islamic history and The Gambia has been approached to identify heritage sites in the country which have a link with Islam.
Read Other Articles In Article (Archive)