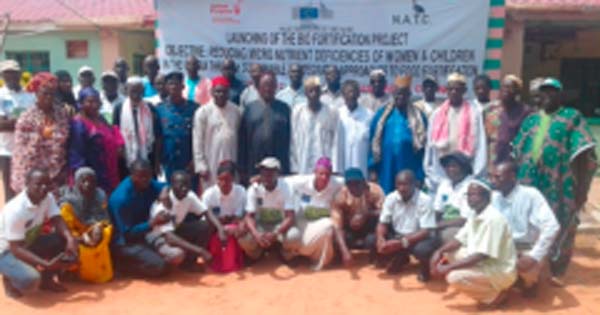 The governor of the North Bank Region, Ebrima K.S. Dampha, has underscored the European Union's contribution to the government and civil societies to boost food and nutrition security for women and children to enhance health of families.

The Governor was speaking on Tuesday at a regional launching of a 4-year Bio-Fortifications Project to be implemented by Njawara Agricultural Training Centre in partnership with United Purpose, an International NGO.
The event was held at the conference hall of the Kerewan Area Council in the North Bank Region.
He said the project supports farming communities to access quality, improved highly nutritional crops and reduced vulnerability of women and children under 5 from malnutrition.
He commented that the project would promote value chain approach to ensure sustainability and nutritional uptake at household levels.
"The objective of the project is to reduce under nutrition and poverty of vulnerable population (women and children) by strengthening sustainable access to and consumption of bio-fortified and resilient high nutrition food," he stated.
Bio-Fortifications Project targets 18, 000 participating farmers including regional women marketing federation to boost value chain improvement on production, processing, consumption and marketing.
Governor Dampha announced that the project would build the capacity of 60 mothers at school level for better nutrition and practical cooking demonstration.
Ousman Jammeh, Project Manager of Bio-Fortifications Project at the United Purpose formerly Concern Universal, said the project is aimed at systemic and sustainable changes that would provide better health and nutrition based on a value-chain approach to ensure maximum sustainability.
The strategy would be to adopt a bottom-up approach of introduction of new varieties of bio-fortified crops for orange fleshed, sweet potato high Fe and Zn Pearl Millet (PM); and enhanced production and consumption of African leafy vegetables (ALVs).
The cooking demonstrations and processing mechanisms aim to preserve a maximum amount of nutritional value of the crops and encourage their wide consumption among the target groups.
This would be complemented by advocacy efforts with government institutions to engage in formulating policy for bio and conventionally fortified foods in the region.
This effort would strengthen 300 women groups to establish 'mothers clubs, links to local health workers; identify and monitor underweight children in communities and link mothers to groups; build capacity to train on nutritional health; awareness/education program; support women's entrepreneurship, leadership, link to enhance agricultural production of foods required for a balanced diet throughout the year; holding of cooking demonstrations at various clinics to learn how to cook nutritious meals.
The action would facilitate review of current strategy and laws on fortification to be widened and become inclusive to wider fortification possibilities and include all crops targeted through stakeholder meetings; technical inputs for private sector processors; consultation and planning meetings; study visit to Senegal and launch of a roadmap.
Mama Manneh, Executive Director of Njawara Agricultural Training Centre (NATC), noted that the project would strengthen farming communities.
He said the project would harness farmers' capacity with improved variety of seed and vegetable to enhance and accelerate food production and nutritional security.
He declared that the project would partner with NaNA, NARI, the Ministry of Agriculture, Ministry of Health, Food Safety and Quality Authority, Department of Agriculture, Food Technology Services, as well as UN agencies such as WHO and FAO, with support from sector specialists that would identify and analyse current policies, which would provide a baseline for improvement.
Buba Jatta of NaNa and Nutrition Field Officer at Regional Health Team Directorate of Farafenni, thanked NATC and United Purpose for partnering with NaNa.
He noted that it would strengthen more public awareness on the significance of nutrition security and exclusive breastfeeding to enhance growth and eradicate stunted development of children.
He assured of his office's commitment to working with stakeholders in promoting the health of women and children.
Mariama Sonko, President of SOCILITA women marketing federation, commented that the project would enhance food production and accelerate marketing of farm produce.
She said the federation would obviously partner with the project to promote value chain addition.
Read Other Articles In Article (Archive)