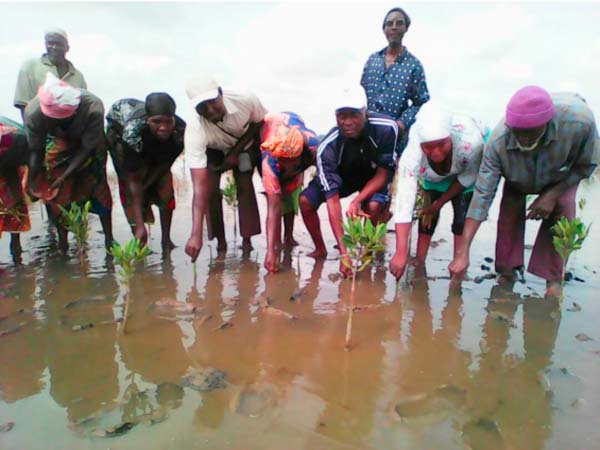 The Association for Food and Environment Security (AFES), a Community-Based Organization of Jokadou Dasilami in the North Bank Region with support from UNDP Small grant Global Environment Facility (GEF), has planted 70,000 saplings of mangroves to restore lost vegetation cover, enhance breeding for seafood and contribute to environmental management.

The mangroves were planted along Jokadou Dasilami wetland to mitigate the effects of climate change and stabilize soil and water erosion along the coastal and marine line, provide spooning ground for fish, minimise salt intrusion and enhance climate resilience building.
Ba Ansu Fofana, Programme Coordinator of AFES, said the planting of mangroves was part of a series of tree planting exercise for the year 2017, declaring the annual tree planting activities are to mitigate the effects of climate change and boost food security.
The planting exercise of indigenous trees aims to target the community of Dasilami, Barianding, Karantaba, Bakang and Tambana, with the view to empowering communities in the regeneration of loss forest species.
He assured of building partnerships with communities and development partners in strengthening capacity development of life skill development in the areas of environmental protection, conservation and preservation of forest resources.
He said training women would contribute to the acquisition of life skills development with the ultimate objective of preparing them for off farm activities on life skills development so as to mitigate the effects of climate change.
Governor Ebrima K.S. Dampha lauded AFES for the foresight in complementing the efforts of government on the restoration of lost vegetation cover and the effort to mitigate the effects of climate change and adaptation to resilience building.
He said the launching of 2017 annual tree planting by Association for Food and Environment Security at Jokadou Dasilami demonstrated their commitment to the green revolution of the biodiversity and ecosystem.
Governor Dampha challenged Community-Based Organizations to take centre stage in advancing the development efforts of the region to bring about sustainable development.
Aja Ma Arohey Gassama, women leader of Dasilami, noted that the protection of the wetland from destruction would address salinity and boost rice and vegetable production.
She called on the local authorities and herders to be vigilant in ensuring that stray animals are controlled.
Read Other Articles In Article (Archive)