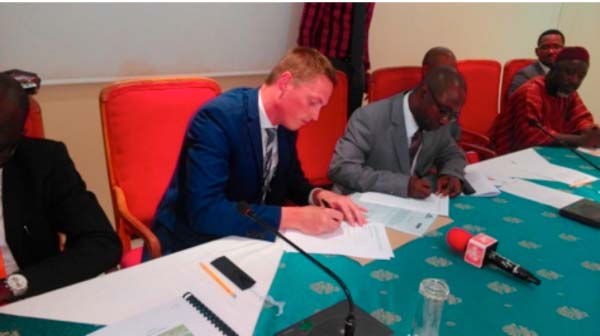 The National Water and Electricity Company (NAWEC) yesterday signed a contract with Wartsila on the replacement of Wartsila engine at the Brikama Power Station.

Speaking at the signing ceremony held at the Kairaba Beah Hotel, Baba Fatajo, Managing Director of NAWEC, said they had a national brainstorming session to validate the energy sector roadmap in the past two weeks.
The objective was to find a durable, sustainable and quick solution to the energy need, he stressed, adding that the document serves as their principal guiding policy document and has long, medium and short-term solutions.
Mr Fatajo said the occasion marks as a significant step in the realisation of their short-term action plans of stabilizing power supply to the population.
"We are gathered to sign an EPC contract of replacement of an 8.9MW generator at the Brikama II Power Plant. This will in no small measure boost our generating capacity in the very short-term," he declared.
He disclosed that the project would be completed between 6 to 8 months and is part of the World Bank funded project dubbed Gambia Energy Support Project (GESP) being implemented by NAWEC, at a tune of 2 million Euros.
He disclosed that once completed, they would have a brand new Wartsila engine.
Mr Fatajo emphasised that the ceremony represents a clarion testimony of their unfettered resolve to provide short as well as immediate remedial measures to the energy challenges.
Upon completion, he declared, it would serve as a significant upward boost to their present capacity and would in no small measure satisfy the ever increasing demands of their dear customers.
"We consider electricity as a human right that should be reliable and accessible to all. I wish to reiterate our continuous resolve to meeting the energy aspirations of our citizenry that they deserve," he emphasised.
He thanked the World Bank group for the intervention at their most critical time of need, saying electricity generation, transmission and distribution is a very capital intensive venture.
For his part, Ouseynou Ndiaye, sales and marketing, Wartsila West Africa, said they are pleased to partner with NAWEC in the rehabilitation of electricity supply in The Gambia.
He thanked NAWEC for partnering with them and for trusting them, pledging that they would deliver as expected as electricity is a basic need for every human.
Momodou O. Njie, permanent secretary at the Ministry of Energy and Petroleum, noted that in line with their set objectives of providing adequate and reliable power supply to the people of the country, several carefully chosen strategies are being employed to ensure sustainable and appropriate solutions are provided to the energy challenges.
"We are pleased to note that a brand new generator will be put at our disposal to boost the supply capacity of NAWEC," he declared.
"All these efforts represent a clarion testimony of government's determination to resolve the energy crisis sooner rather than later," he added.
He said the energy sector remains one of the most important priorities of the Gambia government, taking into account its centrality in national development.
"Government is resolved to transform NAWEC and make it financially viable, robust and efficient, capable of responding to the energy needs and aspirations of the people of The Gambia," he stated.
He disclosed that the Government intends to intensify efforts of renewable energy use through private sector investment with a view to cutting down on NAWEC's operational cost and make electricity affordable to the population.
Read Other Articles In Article (Archive)