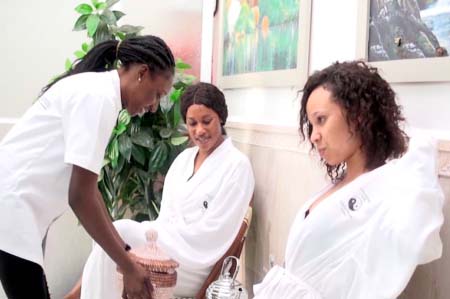 The digital marketing of Natural Remedy Studio was launched on Wednesday at the SPA's complex at Senegambia Beach Hotel. The initiative is the brainchild of Efe Omo Igori, strategist and creative director of Supagrafix Advertising Agency.

Natural Remedy Studio offers traditional African healing massage, Hammam-Moroccan bath, Aroma therapy massage, Jaccuzi steam massage, Indian head massage, hot stone massage, reflexology, beauty treatment, nails, hair dressing, cutting and colouring.
Mariama Roberts, Managing Director and Chief Executive Officer Natural Remedy Studio said the sea waves, the sandy beaches, the genuine smiles in faces, reminds us of the luxury that makes this destination desirable, adding that they are contributing to the preservation of this experience by empowering many young Gambians.
"She added that they hand them skills by training them to support a valuable hospitality industry.
"Tourism is much more than sightseeing. It is also a search for relaxation, remedies and healings", he noted, saying for over two decades, rejuvenating friends and tourists have been their focus.
The Natural remedy studio places customer value in an enviable position, she went on, saying they pride themselves for pristine services.
"Care in a serene environment have always been a part of the professionalism that goes into our beauty treats, massage, therapies, healings and luxurious spa services", according to her.
"When you are in one of our beautiful studios here in the smiling coast of Africa The Gambia, your complete feel of true relaxation is experienced at all levels of engagements", she also said.
"Here at the natural remedy studio we take time to listen to your concerns and put experience, skills and care together in attending to those concerns", she concluded.
Efe Omo Igori, Strategist/Creative Director Supagrafix Advertising Agency said "the inability to market any product within tourism on your own is not possible", and therefore advised those involve in the industry to cater for one another when it comes to information and how to brand their products.
He added that the studio has existed for over twenty years and has done its own marketing within the confines of the tour operators but with the advent of the new technology things have change and everybody can do his/her marketing by themselves and reach new frontiers.
According to him, if you google SPA in The Gambia the Natural Remedy Studio does not appear even though those that appear do not offer better services than it.
He said he want to make sure in six months time if you google SPA in The Gambia you first see Natural Remedy Studio.
Read Other Articles In Article (Archive)