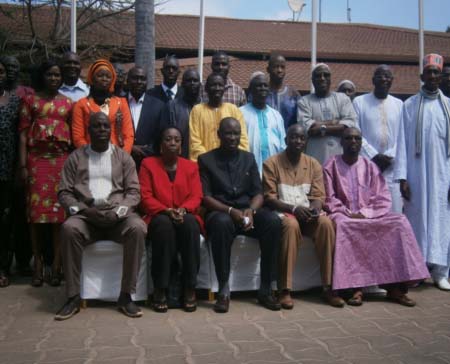 National Water and Sanitation Working Group Tuesday held a two-day Bi-annual meeting at the Kairaba Beach Hotel.
The meeting attended by various actors in the fisheries and water resources sector, as well as other relevant actors, was funded by the Rural Water and Sanitation Project.
Speaking at the meeting, Mass Axi Gai, Minister of Fisheries and Water Resources, said water is humanity's most precious resource, a social growth, as well as an economic growth.
He said the protection and sustainability of water resources was one of the most pressing issues facing Governments and communities today and more so in the water-scarce areas.
"This is why the government continues to render all possible support to provide water on these basic services," Minister Gai said.
He further disclosed that the National Water and Sanitation Working Programme had been established by the Ministry of Fisheries and Water Resources for the coordination of various actors in the provision of water and sanitation services to the people of The Gambia, particularly the rural communities.
He added that the principal objective of the working group was directing efforts and resources to the right direction and to avoid concentration of efforts on the same areas while others in great need are left out.
The proper coordination in the water and sanitation sector was attributed to information sharing, he said, adding that during the training they expect to have reforms from various sources as indication of the impacts of the reactivation of the various working groups.
He urged members to continue mobilizing relevant resources for the successful implementation of the work plan presented on behalf of the group.
The ministry of water resources and partners are cognizant of the importance of positions of relevant documents such as the national water policy, the water and sanitation strategy document, to enhance coordination of activities in that sector, he stated.
Pa Ousman Jarju, director of Water Resources, said they are responsible for coordinating the activities of water and sanitation throughout the country.
He said through the support of rural water and sanitation project, the working group, which was dormant over the years, had been revitalized and consultation had been made throughout the country to reactivate sub-committees at regional level, terms of references and agreements as a way forward.
Jarju added that they would kick-start holding essential meetings to come up with ways and means of bringing a coordinated approach towards water and sanitation, because "all of them are very important actors" and they needed to ensure there would be information to share to ensure their efforts, which have been complemented by their partners, were geared towards the realization of the MDGs, Vision 2020 and PAGE.
Read Other Articles In Article (Archive)