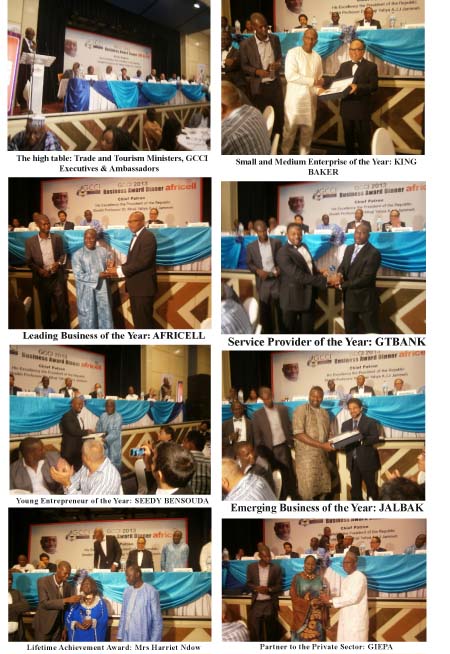 The best of Gambia's business operators for the year 2013 have been named, honoured, recognised and awarded for their excellent execution of corporate knowhow and contribution to the country's economic growth and development over the year.
This historic Business Award event, held at the Kairaba Beach Hotel on 2 May 2014, was witnessed by senior government ministers and officials, Heads of International Agencies, Embassies and Civil Society organizations, as well as Managing Directors/CEOs of companies, and leading entrepreneurs.
After a panoramic screen display of impressive profiles of nominees, the following emerged the leading lights in their respective industries and sectors:
Africell emerged the Leading Business of the Year; Seedy Bensouda the Young Entrepreneur of the Year; King Baker, Small and Medium Enterprise of the Year; Guaranty Trust Bank, Service Provider of the Year; JALBAK, Emerging Business of the Year; Mrs Harriet Ndow, Lifetime Achievement Award; and Gambia Investment and Export Promotion Agency (GIEPA), Partner to the Private Sector.
Awards of Certificate of Support were also given to Social Development Fund (SDF), Gamcel, and Banjul Breweries.
Building Partnerships
Economic operators and business executives in The Gambia were also conscientised to patronise businesses of one another in the spirit of 'private-private' partnerships.
Speaking on Building Partnerships, which was the theme of the occasion, Hon Abdou Kolley, Minister of Trade, Industry, Regional Integration and Employment, told business operators that refusing to patronize one another by continually importing goods that can be bought locally, is doing more harm than good to reducing poverty in The Gambia.
"I am glad in the sense that when we talk about partnerships, most of the time people tend to focus on public private partnerships, but you can have private-private partnerships as well," Hon Kolley noted.
He said: "We have in this country a number of businesses, both domestic and foreign, that have invested huge amount of capital yet patronage of these companies seems to be very low."
The Trade minister cited producers of poultry products and manufacturers of roofing tiles as cases in point, saying even with their good products, Gambian retailers and distributors preferred going in for imported ones to buying from local producers.
"If we take poultry producers, for example," the minister noted, "we expect that Gambian retailers and Gambian distributors should patronize these people: purchase in bulk and distribute to the Gambian market, but what do we do: everybody looks towards imports."
He added: "If we are talking about poverty reduction, import and export is not going to solve that problem; poverty and wealth is created domestically and locally.
"Each time you buy something from outside you are contributing to creating wealth and employment generation in that country.
"Now why don't we do the same thing: create wealth and employment by buying locally."
He further challenged business executives, saying: "By ensuring that we buy what we can get in this country and import what we cannot get, we are going to make a lot of good for our Gambian people.
"So, as private sector executives, I am calling on you: let us see how best we can support each other; let us see how we can buy local things that are available in this country, help those business people to grow. You are not only helping the businesses to grow, you are also helping Gambians. Because if you buy roofing tiles, for example, in The Gambia, the company gets money in the process, but the company employs more workers and they may even be your own relatives and they would get earnings and be able to support a large number of people behind them."
Excessive importation, Minister Kolley notes, heightens the country's import bill, increases demand for and inflates exchange rate of international trading currencies, dwindles the value of the dalasi, causes uncontrollable price rise of goods and services, and creates hardship and poverty for people in the country.
GCCI's President Muhammed M. Jagana, Chief Executive Officer Alieu Secka, Board member Salieu Taal and other members of the private sector apex body could notthank the more the wonderful people, companies and agencies, both local and international, that patronised, supported and ensured they realized a successful and well-attended Business Award Dinner for the year 2013.
Read Other Articles In Article (Archive)