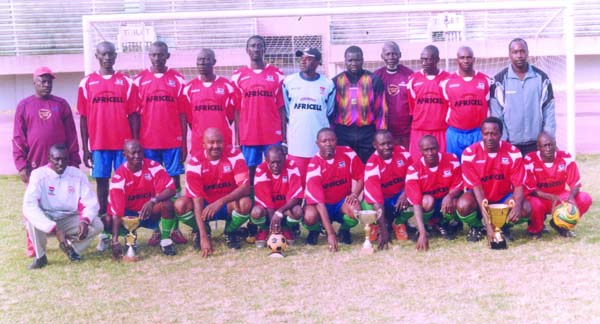 The National Football Veteran Society of The Gambia has commended the Gambian leader President Yahya Jammeh for the support he has been giving to the Society over the years.
Speaking in an interview with Pointsports yesterday at his Banjul office, Amadou Touray, president of the National Football Veteran Society who also doubles as the executive president of the Union of Zone 11 Football Veterans, said the Football Veteran Society was completely "dead".  But it was revived as a result of President Jammeh's good advice, encouragement and financial contribution, he added.
"The Society was able to come back to the limelight thanks to the intervention of President Jammeh, who is always there for us when the need arises," Touray said.
He pointed out that through President Jammeh's advice, The Gambia was able to host a tournament for football veterans within the Zone 11 region, noting that the President also contributed immensely towards the Gambia football veteran team's trip to Freetown, Sierra Leone, last year.
Touray added that The Gambia is now housing the Secretariat of the Veteran Zone 11 Football Veteran Association.
It is part of their plans to decentralise the Football Veteran Society to all regions of the country as well as to bring on board the Society all veterans in the country.
Touray noted that within a short period of time the Football Veteran Society has registered a lot of achievements and would also continue to closely work with the Gambia Football Association and the Ministry of Youth and Sports.
On behalf of the Society, Mr Touray also congratulated President Jammeh on the forthcoming July 22nd celebrations and "for the numerous developments he has brought to The Gambia over the years".
Read Other Articles In Article (Archive)