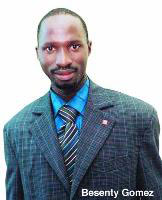 All National associations must fulfill national criteria before they could head for international outings, according to the Executive Secretary of the National Sports Council, Besenty Gomez.
He told Pointsport that a national league is one way of giving competition to athletes in the various disciplines, which he noted, does not necessarily qualify an association or discipline to participate in international competitions.
"The organisation of the national league is mandatory for all associations, hence it is their co-activity. In doing so, all associations are opportune to select or recruit and develop athletes for both national and international competitions," he stated.
Gomez who cleared the dust about the Gambia Volleyball Association?s efforts to participate in the forthcoming Zone11 Volleyball Championship in Dakar, Senegal from 2-7th August went further to give a through explanation regarding the participation of all national teams in any championship, both nationally and internationally which the volleyball association is no exception.
Besenty who was speaking to Pointsport in his office at the National Sports Council's headquarters' in Bakau yesterday added, "the participation of the national teams in both the national and international competitions is another matter of its own."
"National teams of any discipline or association belong to the government and for that being the case, associations should first express their interest of participation by consulting the government to see if resources are available for such competitions."
"There is no point in registering without consultation and coming back to say government must take charge of the national team," said Executive Secretary Gomez.
The National Sports Council were at cross heads with the Gambia Volleyball Association after rejecting council's  involvement in the association's plans  to take part in  the qualifiers of the Zone II set for Senegal.
Sports council then advised the volleyball association to revive its national league, in a bid to pave the way for the association's progress. 
The national volley ball league re-surfaced last month.
Read Other Articles In Article (Archive)