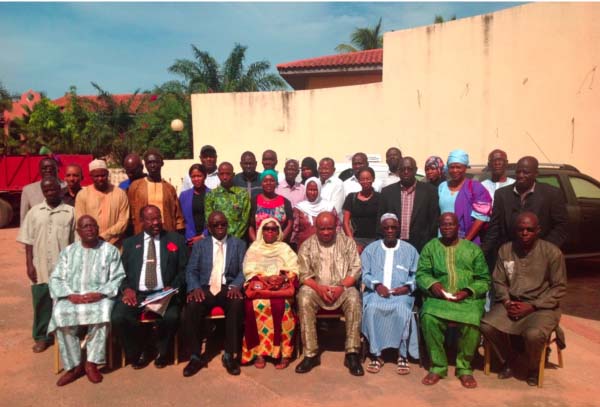 AU-IBAR, in partnership with the Gambia government, Wednesday launched the National Animal Resources Data Management and sharing platform at the Ocean Bay Hotel.

In his statement, Hassan Jallow, deputy permanent secretary, Ministry of Agriculture, said the workshop was part of the government continuing efforts to improve livestock production and productivity for poverty reduction and empowerment of rural livestock farmers.
The performance of the livestock sub-sector in the past decades had been constrained mainly by inadequate policies, weak institutional arrangements, disease and the deterioration of the natural habitat of indigenous animal genetic resources due to deforestation, bushfires, overgrazing and low-rainfall.
DPS Jallow further said the VET-GOV programme is piloting the establishment of ARDMP in 10 MS that would serve as a network of stakeholders for collection and management of data under the existing livestock policy hubs.
The livestock policy hubs are multidisciplinary groups formed to ensure broad stakeholder participation in the development of livestock policy.
DPS Jallow thanked the AU-IBAR for supporting The Gambia in the establishment of the Gambia National Livestock Policy Hub in 2014, and also supporting the inauguration and launching of the Animal Resources DATA Management Platform (ARDMP)
Dr Baboucarr Jaw, Chief Animal Health Officer at AU-IBAR, said the task of strengthening animal resources data management by AU-member states has always been at the core of AU-IBAR activities.
He said the importance of a good information and data management system could not be overemphasised, adding that the information is necessary for planning and decision making, and for the promotion of trade and investment in the livestock sector.
According to Dr Jaw, the responsibility for providing leadership in this respect is one of the primary mandates of the AU-IBAR.
Since its inception in 1951, AU-IBAR has been engaged in providing information and data management by AU-member states.
He said the AU-IBAR had invested a lot of resources in the development of the ARIS-2, which is an information system that would enhance the capacities of the AU-IBAR, the RECs and the member states to collect up-to-date and reliable animal resources data and information, as well as to promote sharing of information and knowledge to support planning and decision making.
He added that The Gambia had reached the stage of establishing its national data management platform.
Dr Jaw acknowledged the contribution of their development partners, particularly the EU, which provided the support for the activity under the VEt-GOV project.
In his welcome remark, the Director General of the Department of Livestock Services, Dr Duto Sainey Fofana, said the overall objective of the platform is to strengthen partnership and establish data management linkages and working relations within various sources of data.
The platform was also meant to develop a framework for the sharing of responsibilities across various sources and agencies involved in data management.
He said the workshop was convened specifically to establish a national platform for animal resources data management in The Gambia.
Read Other Articles In Article (Archive)