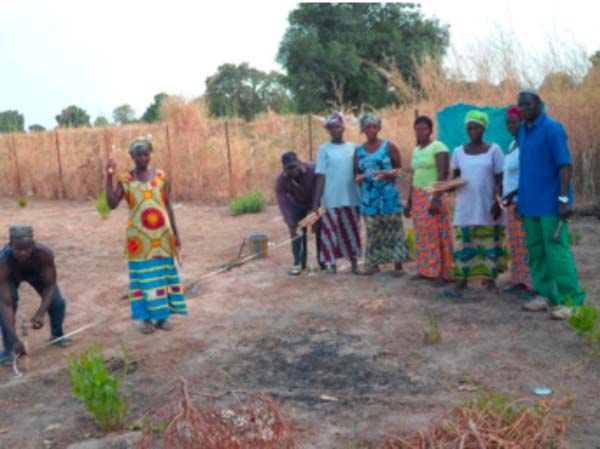 The communities of Kerr Bano, Samba Musu, Jajari and Daru Barakat in the North Bank Region have commended Solidarity for Agriculture (SOLIDAGRO), a Belgium International NGO, through Njawara Agricultural Training Centre (NATC) for its support to improving vegetable production in a bid to achieve food security.
SOLIDAGRO and NATC are implementing a three-year project on vegetable production, sanitation and hygiene, literacy, small ruminant and poultry production.
The project would construct sanitary facilities and advocate for women land rights for agricultural land for crop productivity in the various communities of the region.
The commendations were made during project site visit to gauge the opinion and perceptions about the intervention of the projects.
The project, according farmers, has contributed to strengthening the production capacity of vegetable growers and promote environmental sanitary and hygiene at communities.
The objective is to enhance farmer's capacity and promote life skill development to contribute meaningfully to poverty reduction by engaging women and youth in the crusade to achieve food security.
Alkalo Kebba Sowe of Kerr Bano said the provision of 5 hectares of land for women vegetable garden would contribute to food security and nutritional development.
Kenda Bah, women leader of Kerr Bano, thanked the alkalo for providing land to women and commended SOLIADGRO for enhancing the economic wellbeing of women, citing small ruminant and poultry.
Alkalo Babu Njie and Aja Binta Trawally, women leader of Samba Musu decried the situation of inadequate water supply in the community and called on the project to support them with additional hand pumps to meet water needs of the people.
Alkalo Alh. Ousman Minteh, and Hijo Minteh, VDC Chairperson of Daru Barakat thanked Njawara Agricultural Training Centre for contributing to food security and poverty reduction.
The community launched an appeal to support in providing additional water tanks that would meet water requirement for domestic use and vegetable production.
Halimatou Marong and Mama Marong of Jajari Women Kambeng Kafo Vegetable garden praised Njawara Training Center for providing 32 bundles of chain link wire for fencing and demarcating 350 beds for vegetable garden to ensure protection of their crops.
Read Other Articles In Article (Archive)