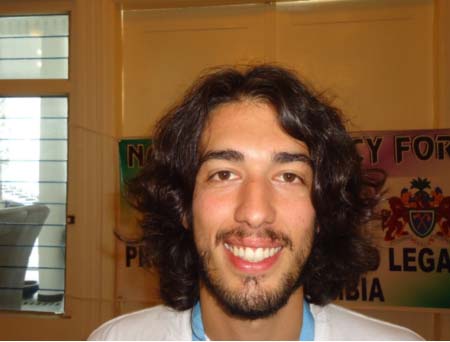 MauroPuzzo, a United Nations Volunteer (UNV) legal aid expert working with the National Agency for Legal Aid (NALA), has been speaking on the importance and role of the NALA , describing NALA as an independent body whose actions are not influenced by the government.
Since inception in 2010, NALA has provided free legal representation in more than 500 cases in The Gambia.
Puzzo cited the importance attached to the establishment of NALA in The Gambia considering the services offered to the society, particularly to vulnerable people who find it difficult to hire the services of a legal practitioner.
The UNV legal aid expert was speaking during the UNV Open Day held recently at the Coco Ocean, where various institutions gathered and showcased their products, role and responsibilities as institutions and partners in development.
He said NALA was set up mainly to make sure that some of those gaps are addressed, and to ensure that everybody has access to legal aid through NALA legal services.
NALA was established in 2010 under the Legal Aid Act, 2008 to provide legal aid in all cases of capital offence and criminal cases punishable with life imprisonment, that is, murder, rape, robbery with violence and treason, and in all cases involving children.
NALA has since its was created provided free legal representation in more than 500 cases, and legal advice in numerous criminal and civil cases.
Its impact, especially on incarcerated clients has been profound, he said.
According to the UNV legal aid expert, clients who had languished in detention for years have had their sentences reduced, others have been acquitted and discharged and other cases withdrawn.
NALA had introduced the mobile legal aid clinic project in 2004 to decentralise legal aid to the grassroots, and to reach those who would not otherwise access NALA offices due to financial or other constraints.
Regarding NALA services, the UNV legal aid expert said legal representation not only guarantees the fundamental right of access to justice, but also the right to a fair trial.
He said in terms of legal advice, NALA provides legal advice in all criminal and civil cases, adding that legal advice can be provided in court, at the police station, at the prisons, during the mobile legal aid clinic sessions and at the NALA offices in Banjul, Basse and Farafenni.
About awareness creation, the UNV legal aid expert said to create awareness on legal aid services, NALA conducted sensitization programmes through radio shows which are widely tuned into by a majority of Gambians, as well as training programmes to stakeholders and beneficiaries on access to justice in The Gambia.
According to Mr Puzzo, all persons charged with a capital offence are qualified for legal aid services free of charge.
Read Other Articles In Article (Archive)