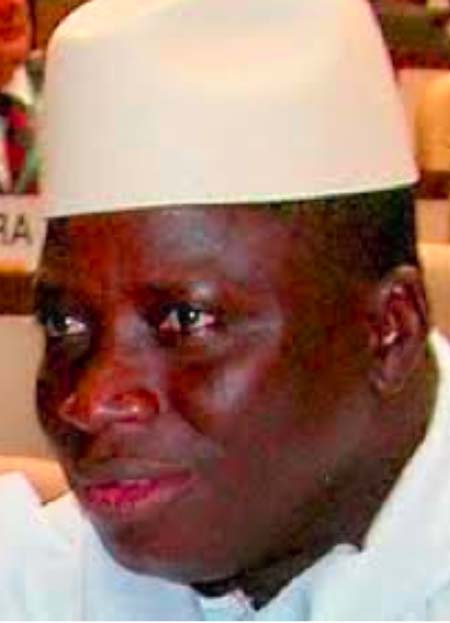 The Gambian leader, President Yahya Jammeh, has pointed out that the past twenty years were not easy pickings for the development of the country.
"We went through trials and tribulations," he said while addressing thousands of Gambians gathered at the Independence Stadium in Bakau on Friday for the celebration of the 20th anniversary since he came to power in a bloodless coup in 1994.
Several foreign dignitaries, including the presidents of Senegal, Guinea Bissau and Mauritania and diplomats from various countries attended the event.
Thousands of people, mostly youths and women, from all walks of life in The Gambia were at the stadium to celebrate the event, said to have heralded numerous developments in all sectors of the country.
Deadly stooges along the way
Babili Mansa, as Jammeh is fondly called by his party militants, said since he came to power, his government faced treachery and cynics and deadly stooges along the way.
"But we conquered all these obstacles because we entrust our entire existence and destiny to the Almighty Allah," he said.
President Jammeh said they were able to sail through the rough waters to transform The Gambia from a retrogressive nation teetering on the brink of extinction to a very dynamic modern country "soon to become an economic super power."
Mistakes and bitter lessons learnt
President Jammeh said the 20 years had not been without mistakes, but they had learnt from their mistakes and that of others.
"Each mistake taught us a bitter lesson, and all those lessons combined made us better servants of Allah and Gambia, in particular," he said.
"The most important lesson I learnt is that those who depend on and worship only the Almighty Allah shall never fail."
The second lesson, Jammeh said, is that a united and Allah-worshipping country is easier to build and develop than a divided Shaitan-worshipping country.
"We learnt bitter, but useful lessons that have turned us into better, independent and dignified people," he stressed.
The Gambian leader said as his government moves into the future, they "must" use the lessons learnt during the past 20 years to strengthen their resolve to serve the nation in every way possible.
He said they would also continue to use the various opportunities created to build an ultra-modern Allah-worshipping nation.
A superpower in few years
President Yahya Jammeh has again assured Gambians that his government would transform the country from a least developed country to an economic super power "in the next few years."
Though President Jammeh has made similar pronouncements in the past, this time he said "this is without fail."He added that his government would not fail to achieve "this noble objective" with the support of Almighty Allah.
Development registered
President Jammeh said in the past 20 years, his government has registered sustained and progressive developments in all aspects of life in The Gambia.
"We have constructed first-class paved roads all over the country, built state-of-the-art hospitals and major health centres, a flourishing university and numerous primary, junior and secondary schools, a television station; and substantially mechanised and modernised agriculture by providing tractors and other farming implements, just to name a few."
The Gambian leader stated that despite the "unparalleled" record of accomplishments his government registered in 20 years, they would not rest on their laurels.
He said they would continue to work harder to attain their development targets sooner rather than later.
"We will continue to worship only the Almighty Allah, work together with our true friends and brothers around the world to build not only a better Gambia, but a more peaceful, prosperous and Allah the Almighty-worshipping human race," President Jammeh said.
Read Other Articles In Article (Archive)