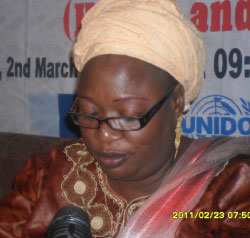 (Wednesday August 31st, 2016 Issue)

Magistrate Omar Cham of the Banjul Magistrates' Court yesterday discharged Naffie Barry along with sixteen other accused persons, who were charged with negligence of official duty and abuse of office.

They earlier denied the allegations.
The other accused persons who were discharged are Kaiding Sambou, Bernard Mendy, Cherno Njie, Yira Janneh, Abdoulie T.B. Jarra, Miss Aminata Semega Janneh, Fafa Sanyang, Miss Fatoumata Bah, Momodou Saidy Leigh, Miss Aja Fatou Gaye, Habib T.B. Jarra, Lamin Ceesay, Famara Darboe, Sanna Gassama and Rohiyatou Kah.
The decision of the magistrate followed the application made by the police prosecutor, ASP Manga, to discharge them, adding that he was also applying for dropping the charges against the accused under section 169 (1) of the CPC.
Naffie Barry and those who were discharged were earlier jointly charged along with eleven other government officials, totaling twenty-eight.
When the case was called, ASP Manga rose and told the court that he was representing the IGP along with First Class Fatoumata Jallow.
He informed the court that Fafa Sanyang, an accused, was at the high court, and Abdoulie T.B. Jarra had not been going to court.
Lawyer Surahateh Janneh, Omar Njie, Abdoulie Sissoho (who held brief for Hawa Sisay-Sabally), Combeh Gaye, A. Fatty (who held brief for Lamin Darboe) and Patrick Gomez announced their representation for the accused persons.
ASP Manga craved the court's indulgence to allow them to go back to their office to look into why Abdoulie T.B. Jarra had not been going to court.
When the prosecutor applied to the court for the seventeen accused persons to be discharged, the defence counsel did not raise any objection.
However, they applied to the court for all the title deeds and travel documents to be given back to the accused persons who were discharged, which they deposited when they were granted bail.
Magistrate Cham granted the application, and ordered that the said documents be surrendered to those who were discharged.
Prosecutor Manga then made an application for an adjournment to file a new charge, adding that they were going to amend the charge which also affects those who were not in court.
He urged the court to allow them a week to do so and come back to proceed with the case.
Omar Njie did not object to the application.
The case was adjourned until 7 September 2016.
Read Other Articles In Article (Archive)