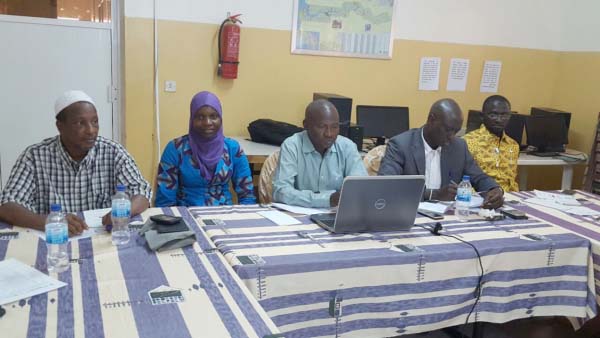 The National Association of Co-operative Credit Union of the Gambia (NACCUG) last week held a two-day intensive training for its board members from the West Coast Region on Social Performance Management (SPM) at the NACCUG conference hall in Kanifing.

The training, which brought members from the West Coast Region of Bwiam and Brikama, was geared towards building the capacity of the members on social performance management to help credit unions.
The project, which is part of the partnership with NACCUG and the Irish Aid Foundation, is funded by the Irish Government.
One of the components is to support credit unions and help them draw out plans to ensure that their credit unions' components in which they measure adapt to social performance management as part of the work they do.
Speaking at the training, Baboucarr Jeng, general manager of NACCUG, said NACCUG has over the past one and half been trying to support credit unions to implement social performance management as part of their work.
"Each year we try to add new credit unions on to this to build their capacity," he said.
He explained that, as credit unions they have always said they are unique and different from all the others in the sense that they are member owned, member controlled and member financed, which makes them unique and different.
He stressed that they hear banks and other financial institutions talk about corporate social responsibilities; they NACCUG talk about social performance.
"We go beyond the responsibility just ensuring that we donate things to communities or go beyond to look at how they impact on these communities," he said.
According to Mr Jeng, the training was essentially to help them reflect on the lives and livelihoods of people, adding that members should think about what impact they have made or given to the people.
He said it was now time for them to sit back and think about the impact of those loans on the people, whether it is helpful or changes have been effected in the lives of people they worked with.
The essence of the training was also to help them think about how they are helping people and what the impact is.
Social performance in its sense is trying to help access the real impact on the lives of people they work with.
He further stated that the training was "very tense", adding that the target was not for only the members to understand it but also to go back to their various credit unions and replicate the change.
He thanked the Irish government for their "tireless support" and promised to continue partnering with them for the betterment of credit unions in The Gambia.
Read Other Articles In Article (Archive)