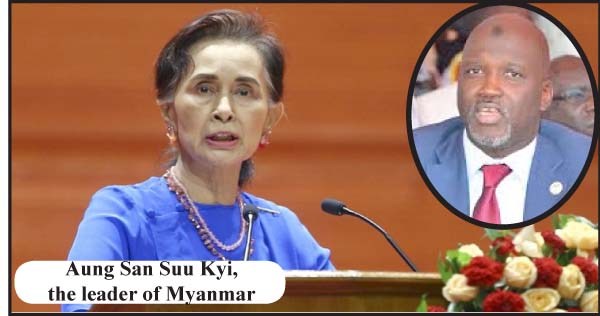 Aung San Suu Kyi, the leader of Myanmar, has accused The Gambia for bringing an ''incomplete and misleading'' case against her government at the International Court of Justice (ICJ) over the treatment of Rohingya Muslim minority.

The Gambian team led by Attorney General and Minister of Justice Abubacarr Tambadou alleged at the U.N's highest court that such treatment against the Muslim minority group violated the 1948 Genocide Convention thus demanding an end to it.
The ICJ has various functions; however, its primary duties are to settle international legal disputes submitted by member states. It also has the jurisdiction to give advisory opinions on legal issues referred to it by the UN.
But Banjul officials with their representatives who are shouldering one of the most daunting and overwhelming tasks of trying to bring the Myanmar leaders to justice for alleged genocide has received a vigorous defence from the accused.
The serious allegations at the ICJ prompted Suu Kyi and some of her top military officials to formally present and give conspicuous response to the charges describing them as ''factually misleading.''
Even though nearly a million Rohingya fled for their lives during the operation in 2017, the authorities in Myanmar are determined that they did the right thing and had since refused to back down despite mounting pressure.
Suu Kyi, who is also a Noble Peace Prize laureate in defending herself and in trying to convince the Court and the world, noted that the conflict in the ''Western Rakhine State was complex and not easy to fathom.''
Consequently, she dismissed Gambia's claim as 'misleading' but accepted that 'disproportionate force' may have been used by the military during the days of the conflict.
Notwithstanding the fact that a published United Nations fact-finding mission called it ''the gravest crimes under international law'', Suu Kyi used the terrorism slogan to justify the crackdown.
She defended that "the military clearance operations in Rakhine were justifiable response to the acts of terrorism…''
The Gambian legal team tendered both the testimonies of the victims as well as graphic and striking photos of what happened, but little was done to change Myanmar's position.
The Point learnt that so far, Gambia has both political and moral support by the Organisation of Islamic Cooperation and other nations. Also reports suggested that both Canada and the Netherlands including some EU countries also publicly supported Banjul.
Furthermore, the country has been widely hailed across Europe for a 'bold move' in trying to see to it that justice is done on behalf of the Rohingyas in Myanmar.
However, human rights groups equally called on The Gambia government to also make sure that perpetrators of gross human rights violations on its own soil are fully accountable for what they did. They demanded prosecutions to take place in The Gambia ''as soon as possible and victims properly compensated because justice begins at home."
Read Other Articles In Article (Archive)