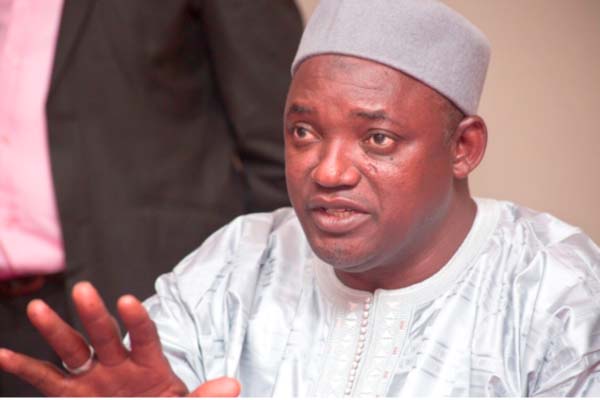 President Adama Barrow has said his government is out to ensure the survival, protection and development of children in The Gambia.

He also said all Gambian children 'must' go to school.
He was addressing the nation on Saturday during his inauguration and the celebration of Gambia's 52nd independence anniversary, held at the Independence Stadium in Bakau.
President Barrow said his government would ensure the survival, protection and development of all children in The Gambia.
The Ministry of Health and Social Welfare was charged with the responsibility of doing an inventory of the hospitals in the country, in order to determine the input necessary to upgrade the health centres.
The health services are also to ensure a staff audit in order to identify concerns and develop programmes to ensure staff motivation.
The government would seek to partner with ECOWAS, the AU, the UN and other traditional development partners like the US, EU, the UK and new development partners to improve on infant mortality and maternal health.
"This is aimed to improve their well-being and reduce mortality. We will work to improve nutrition, sanitation, access to clean drinking water and ensure that primary health care is accessible and affordable to all rural and urban centres," he said.
He added: "The law of the land is such that basic education shall be free, accessible and compulsory. All Gambian children must go to school. The Gambia under my presidency will respect the dictates of the constitution and work with our development partners to make free education a reality," he said.
According to UNICEF, the main child protection issues in The Gambia are sexual abuse and exploitation of children.
Female children and adolescents are the most exposed to sexual abuse by adult men, called 'Sugar Daddies' while in the tourism industry, the sexual exploitation of children by tourist remains a continual challenge.
Harmful traditional practices such as FGM/C and early marriage, the Gambia's 2010 Multiple Indicator Cluster Survey (MICS) revealed a 76 per cent prevalence rate for FGM/C nationally with rates as high as 99 per cent in some regions and among some ethnic groups, thus exposing affected girls and women to both physical and psychological trauma.
The MICS also indicated that 8.6 per cent of women aged 15-49 who were married or in union actually got married before their 15th birthday while 46.5 per cent were married or in union before they turned 18 years. Early marriage is one of the contributing factors of school dropout for girls and the continued cycle of poverty in poor communities.
Violence against children: Referring mainly to corporal punishment at school, a limited study commissioned by the Child Protection Alliance with support from Save the Children Sweden on corporal punishment in schools (Tang, J. 2005), revealed that children are being corporally punished at home and school, mostly by caning.
The MICS 2010 shows that over 90.3 per cent of children ages 2-14 years were subjected to at least one form of psychological or physical punishment, while 18 per cent were severely punished, physically.
At least half of those punished sustained injuries such as bruises. Changing the attitude of parents is a priority for the country programme as 38.9 per cent of mothers/caregivers believed that children should be physically punished.
Children living and/or working on the streets: These comprise predominantly of children who have been sent off to acquire informal religious education from religious scholars and are often known as almudos (or talibes in Senegal).
Among street children are also runaways. Such children are continuously exposed to not only sexual abuse and exploitation, but other forms of violence like corporal punishment and exploitative child labour, including street begging. They are also at risk of sexually transmitted infections, including HIV/AIDS.
Orphans and other vulnerable children due to HIV/AIDS (OVC): Although the HIV prevalence rate in The Gambia is relatively low, at 1.9 (DHS, 2013), there is a small but growing number of OVCs.
Non-registration of births for children under five years: According to MICSIV (2010), only 52.5 per cent of children under five had their births registered.
Birth registration is the first formal recognition of the child's existence by the State and a birth certificate is a child's ticket to citizenship. It entitles a child to a passport and Voter's card. Birth certificate enables a child to prove his/her age when in conflict or contact with the law. Children whose births are not registered are more likely to be targeted by traffickers.
Children in conflict with the law: While the number of children in detention is relatively low, anecdotal evidence shows a growing level of criminal behaviour by young people. There is no functioning probation service and no separate facility for girls who receive a custodial sentence.
There are three Children's courts situated strategically around the country.
Baby abandonment: Newborns are often abandoned by their mothers for a variety of social, cultural and economic reasons, including poverty and the stigma associated with having a child out of wedlock, as well as through infidelity while her husband is away.
Read Other Articles In Article (Archive)