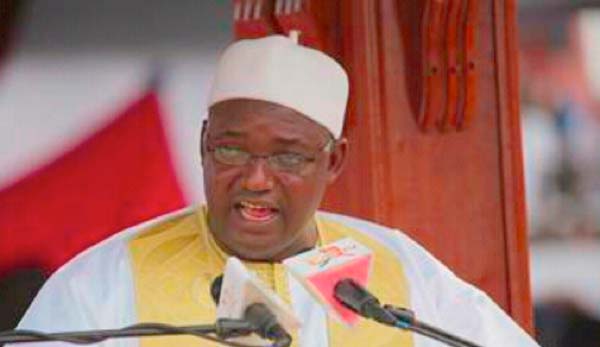 President Adama Barrow has said that a Ministry of Planning and Good Governance is to be established to facilitate and monitor the development and implementation of a blueprint for socio-economic development.

He made this remark on Saturday during his inauguration and the 52nd independence anniversary celebration, held at the Independence Stadium in Bakau.
He added that the provision of quality social services is the fundamental objective of the government under his presidency.
President Barrow noted that all these issues would require sustainable macro-economic stability and growth.
"This is why I established a Think-Tank - The Agency for Sustainable Socio-Economic Development (ASSED).
"It is charged with the responsibility to establish an experts' bank. This will provide data on the different expertise available to share their knowledge and skills. Their expertise will be tapped in order to put in place an inclusive development agenda."
Regional administration will be done by public servants, not political appointees and the pay and grading structure of the civil service will be reviewed and pensioners will also benefit from the reforms, he further announced.
President Barrow assured Gambians that state enterprises are to be reviewed with a view to adopting policies that would ensure that they pay dividends to government, instead of being a liability.
"The government will undertake key constitutional and legal reforms, which will be highlighted in my first address to the National Assembly, and it intends to enforce constitutional provisions that are entrenched to protect the fundamental rights of the citizens."
Barrow said orders have already been given for all those detained without trial to be released, and the Attorney General and Minister of Justice will receive information regarding all those who were arrested without being traced.
An appropriate commission would be established to conduct inquiries into their disappearances, he declared, adding: "A Human Rights Commission will be established without delay to complement the initiatives of the Attorney General.
"The National Council for Civic Education will be provided with the facilities to conduct civic education to promote national reconciliation, in collaboration with other organizations that are set up to promote national unity and reconciliation.
"The judiciary will receive adequate support in terms of personnel and independence to enable it to deliver justice without fear or favour."
Read Other Articles In Article (Archive)