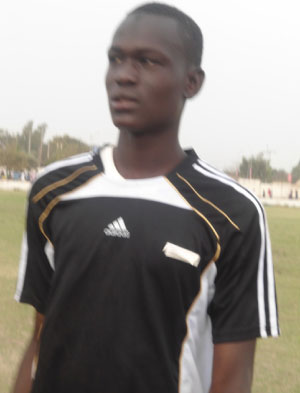 The country is no doubt blessed with young talents whose potentials have since been discovered by football pundits both at home and abroad.
So many young Gambian talents have being exported to various European clubs and notably in the Major League Soccer, (MLS).
One such talent likely to follow in the footsteps of the likes of the veteran Gambian goalkeeper Pa Dembo Touray is Steve Biko's magnificent young goalkeeper Musa Touray.
Touray made his sensational debut for the Bakau giant killers in the GFA first division league with some eye-catching performances everyone was proud of.
He was widely rated by football pundits as the most outstanding goalkeeper in the Bakau Nawetaan last year after his world class saves helped his team, Zuwa FC, to reach the final of the knockout championship for the first time in the club's history.
The 15-year-old youngster was born in Bakau Newtown to Gambian parents Masaneh Touray and Fatoumatta Singhateh.
The young sensation has had an outstanding season with newcomers Zuwa since his sensational switch to the Bakau Newtown outfit from local rivals Luniburg in the early part of the 2009 Nawettan season.
Touray, who has set his eyes on becoming a professional player at some point in his playing career, continues to attract the interests of a good number of first division teams including Africell FC, who have repeatedly expressed their desire to secure the services of Touray, one of the brightest prospects in Gambian football.
But he opted to join Steve Biko in the country's top-tier football league earlier this season.
Touray began his playing career with GIFT Academy where he established himself as a regular first team player helping the academy outfit to reach the quarterfinal of the international youth football championship called Norway Cup in Oslo, Norway, in 2005.
Touray also helped GIFT to win the fitness tournament organised by Norway the same year in Oslo with some fantastic performances that saw him attract interest from a host of top sport personalities during a two-week international youth competition.
He made a total of 11first team appearances for in-form Zuwa FC that are on course to claim their first-ever nawetaan title and conceded only one goal in the process.
Touray's performance in last year's Naweetan is still considered by many football followers as one of his best performances in many competitions he has taken part in, which paved the way for the young starlet to move to Steve Biko where he established himself as a first choice goalkeeper.
Touray's most outstanding performances to date came this year when he made his impressive debut for Steve Biko in the GFA top-flight football appearing in all the matches since breaking his way into Biko's first team, although his missing of a penalty catch caused the Bakau giant killers their hope of winning the FA Cup.
He was so much instrumental in helping Zuwa FC to reach the double finals last term after his world class saves denied double finalists all the needed points, at the expense of the club that is making its first appearance in the Bakau nawetaan.
Read Other Articles In Article (Archive)