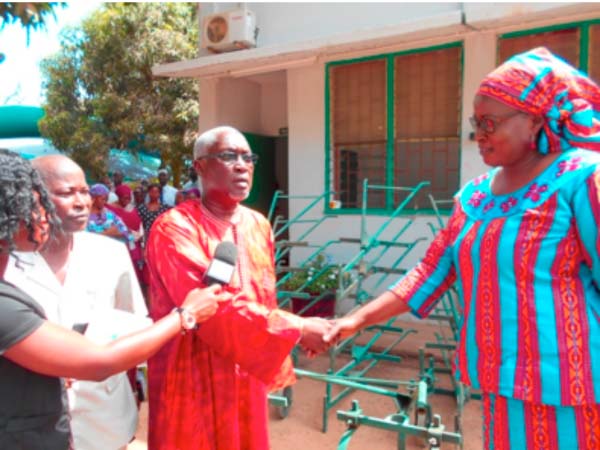 Gambia Technical Training Institute (GTTI) handed over 149 horse drawn shine hoes to the Ministry of Agriculture, at a ceremony held at the institute's grounds on Monday.

The 149 horse drawn shine hoes were manufactured by local artisans, NARI, Department Of Agriculture and GTTI.
The farm implements were handed over to the Minister of Agriculture for onward transmission to farmers.
In receiving the implements, the Minister of Agriculture, Hon. Omar Jallow, commended the management of GTTI, saying what they are witnessing was a close collaboration between his ministry and GTTI, which is a national institution.
Minister Jallow pointed out that most countries that are presently advanced used to import all the equipment of agriculture from institutions like the GTTI.
He thanked the GTTI for living up to expectations, saying he hoped that one day Gambia would have a university of technology, which would be GTTI to produce all the things the state needs.
He said that with the new government they have a new focus, a new mission and a new vision for Gambia, because Gambia is a small country and it's always easier to manage something small than something big.
In her remarks, the Director General of GTTI, Jahou Bah-Faal, said the Department Of Agriculture, NARI, GTTI and Artisan came together to form a taskforce using GTTI.
She said the Gambian government recognizes the importance of strengthening the GTTI mandate, adding that she was grateful to the government of The Gambia through the ministry of Agriculture.
"We hope to have more collaboration in the future and will assure we live up to expectations," she said.
The permanent secretary at the Ministry of Higher Education, Dr Cherno Omar Barry, said they applauded the Ministry of Agriculture for trusting the GTTI to do job and assured the minister that the institution is ready to intervene in many other areas with regards to producing farm implements and other accessories for farmers and livestock keepers.
"We need to give people the opportunity they need to succeed or a helping hand, if they need one. We have to create a climate for innovation that encourages companies and research centers," he stated.
Read Other Articles In Article (Archive)