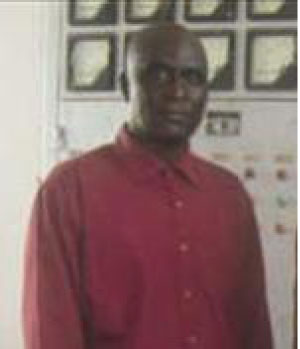 The Gambia National Olympic Committee (GNOC) recently awarded Musa Njie with the Hall of Fame award at the 14th Edition of the Banquet Awards Ceremony held at the Djeliba Beach Hotel on 18 May 2012. 
Musa Njie, born on 20 September 1952, attended Windley Primary School in Half-Die and St Augustine's High School in Banjul.
His career as a multi-talented athlete commenced while at school, where he was an all-time member of the school's football and athletics teams.
Mr. Njie has served as captain of the senior football team for two consecutive seasons with great achievements. He was a member of the invincible Real De Banjul Football Club in the 1st Division from 1971 to 1975.
As midfielder, he was one of the most outstanding players of the team. He possessed most of the qualities of a physically fit person such as strength, power, stamina and tension.
Many a goal keeper would prefer to refrain from attempting to face the direction of his shots for fear of sustaining either a fractured arm or broken fingers.
He contributed immensely towards the success of his team, Real De Banjul. The team won many leagues and championships during his time.
Real De Banjul, during the heyday of Njie, were regarded by many enthusiasts as the best team for many years.
In the quest of widening his horizons as well as seeking international recognition in football, he proceeded to Uppsala in Sweden in 1975.
While he was in Sweden, he played for I.K. and Sirius both 2nd Divisions in the Swedish league. This was a rare opportunity for African immigrants.
In 1982, he bade farewell to Sweden and proceeded to the US for more exposure.
While in the US, he attended and graduated from St. Thomas University, Miami Florida, with a Bachelor of Science degree in Sports Administration in 1984.
Mr. Njie further pursued a post-graduate course in sports marketing and promotion in 1986 at Fort Lauderdale. 
He held a very prestigious position in the field of sport, especially football in the USA, ranging from head coach to director of marketing for the South Florida professional football club.
He finally returned home and held various high-profile positions at the Ministry of Youth and Sports in 1995.
Njie, being a technical director of the GFA, established the famous U-17 and U-20 youth and junior national teams. The underlying concept was to catch them young as a meaningful approach to football development. Both teams featured prominently in world football.
Mr. Njie is currently busy promoting the development of young players in the quest to produce world class footballers to feature in prominent leagues, particularly football.
As a result of his track record in sport, especially football, Mr. Njie got admitted into the GNOC Sports Hall of Fame 2012 Banquet and Award Ceremony.
Read Other Articles In Article (Archive)