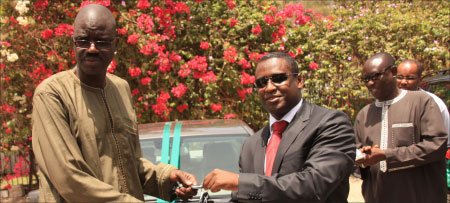 The Chief Executive Officer of Qcell GSM company, Muhammed Jah, yesterday donated two brand new Mercedez Benz cars to President Yahya Jammeh, at a ceremony held at State House in Banjul.
The cars, a Mercedez Benz 4x4 M Class 2013 and E-300 Saloon vehicle B Class were presented to President Jammeh as a special birthday gift.
Speaking at the handing over ceremony, Muhammed Jah recalled that during Qcell's first year anniversary, President Jammeh graced the occasion and made remarks that he felt if anybody is going to come up with a car or vehicle assembly plant in the country, it will be Muhammed Jah.
'Actually it was a very nice feeling for me. I don't know when it was going to happen, but because of those remarks, I doubled up my efforts, because at that time, we were only distributing Chinese vehicles. Today, I am happy to say that apart from the Chinese vehicles, we are the official distributors of Mercedez Benz from Germany,' Jah announced.
According to him, he has also added to his distributorship Citroen from France, and also Ford from the United States.
'So very soon, you will be seeing these cars in The Gambia. Step by step, I think we are getting very close to the vehicle assembly plant, and I hope the President's wish will be heard by the Almighty Allah,' he added.
'We have just started bringing in these vehicles into the country, and I felt that before starting to sell any of these vehicles, the President should have a taste of them,' Jah noted.
Receiving the cars from Muhammed Jah on behalf of President Jammeh, the Minister for Presidential Affairs who is also the Secretary General and Head of the Civil Service, Dr Njogu Bah, commended Muhammed Jah for the gesture, noting that this is not the first or second time for such gestures from Muhammed, as he has been doing this.
'Whenever he has a new product, he will first introduce it to the President and he does not mind the cost involved or the magnitude of the expenses,' he said.
According to him, Muhammed Jah is a product of the July 22 Revolution and he brags about it, and always said that he is where he is today because of the empowerment and support he gets from the President.
'This is what the President has been talking about; for Gambians to come out and be at the centrestage, take charge of your country, get involved in the development of this country; and Muhammed paid heed to that and has been very active and ambitious,' he stated.
Describing Muhammed Jah as a role model that all young Gambians should emulate, Dr Bah said with the support of President Jammeh, the sky is the limit.
'We want to encourage you to continue the good work, continue being serious and being conscious of the fact that the future of our country is in our hands, and we have to get involved, not to allow or to surrender all that we have to foreigners,' Dr Njogu Bah stated.
Noting that everybody is invited to participate in the socio-economic development of our country, the Minister for Presidential Affairs, said as citizens, we need to understand that we have a role to play; it is our country and we need to be participating in its development.
He further encouraged Muhammed Jah to continue to be focused, and be more ambitious as he is sure that the assembly plant will be realized very soon.
Francis Liti Mboge, Minister for Works, Construction and Infrastructure, lauded the gesture, noting that the gesture is a small gift from Muhammed Jah because if he could give the whole factory of the cars to President Jammeh, he would have done it if he had the capacity.
He commended Muhammed Jah for the noble gesture, and wished him all the best.
While expressing hope that the country will soon have the vehicle assembly plant come to fruition, Minister Liti Mboge, said the Gambia is moving and moving in leaps and bounds, and in a very short period of time, we will fulfill our dreams and aspirations.
Mass Axi Gye, Minister for Fisheries and Water Resources, said the gesture is no small measure due to the relationship between Muhammed Jah and the executive, in particular the President.
Read Other Articles In Article (Archive)