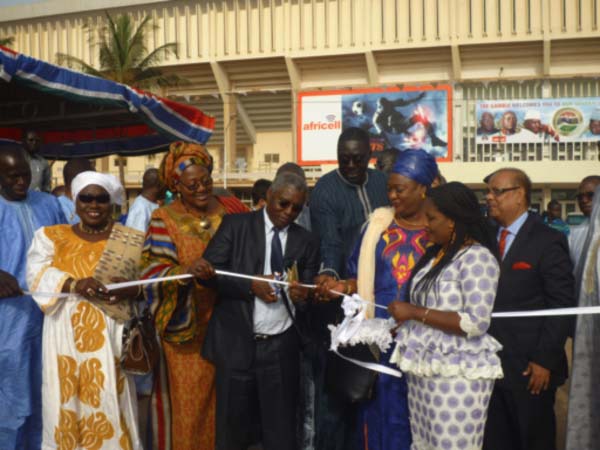 The Minister of Trade, Industry, Regional Integration and Employment, Abdou Jobe, on Saturday said Micro Small and Medium Enterprises (MSMEs) are the biggest source of untapped growth potential, while launching the 8th Edition of the International Trade Fair Gambia (TFGI) held at the Independence Stadium in Bakau.
Launching TFGI, Trade Minister Abdou Jobe said the importance of MSMEs as the principal source of growth and employment could not be overstated.
According to the International Trade Centre, MSMEs are the biggest source of untapped growth potential, and by 2030 will be generating the bulk of close to 470 million new jobs that will be required by employment, the Trade minister said.
MSMEs in The Gambia account for more than 20% of the Gross Domestic Product (GDP) and form more than 60% of the urban labour force.
In this regard, Hon Jobe explained, his ministry "prioritizes" the promotion of MSMEs in their development agenda considering the importance and impact the sector has on the livelihoods of the majority of Gambians.
The success of MSMEs is fundamental to the future of the Gambian economy, he stated, adding that across Africa, MSMEs have always been the main drivers of innovation, job creation and growth.
He further stated that this year's theme: "Supporting Sustainable Enterprises: The Gambia @50" emphasizes the need for all players along the value chain to work together to achieve notable economic growth which would trickle down to every Gambian.
For a long time, The Gambia has been producing and exporting raw materials with very little focus on value addition, which according to him, could now be upgraded to a major step of commercializing the agricultural sector as they work toward achieving Vision 2016.
That is the best path that The Gambia could take to transform from a net importing nation to a self-sufficient exporting one, Minister Jobe said.
He added: "Economic growth is fuelled, first and foremost, by the creativity and hard work of entrepreneurs and workers. Driven by the quest for profits, enterprises innovate, invest and generate employment and wages."
This is why, he said, his ministry has continued to implement targeted policies and programmes geared toward promoting entrepreneurship.
One such programme, he added, is the EMPRETEC project, which aims to bring about a transformational change in unleashing the growth potential of micro and small-scale enterprises by 2017 through entrepreneurial skills training and provision of a comprehensive range of business advisory services.
"To support sustainable enterprises, my ministry has developed a National Trade Policy, National Export Strategy, National MSME policy 2014-2018, a national Entrepreneurship Strategy, a National Business Plan Competition, a feasibility study on MSME clustering and also a MSME database for networking and marketing purposes, among other programmes being run under my ministry," he said.
The minister welcomed the international participants and commended all of the participating MSMEs and institutions, saying their presence demonstrated their commitment to the business and to the wider prosperity of the sector.
He equally recognised and applauded the hard work and dedication of the GCCI for organizing yet another trade fair, and for their untiring efforts in showcasing The Gambia and facilitating partnerships between the public and private sectors.
Papa Yusupha Njie, 1st vice president of the GCCI, said that although this year's trade fair "will facilitate sales and trade in goods and services," it should be seen most importantly as an opportunity to display and market innovations in order to expand the customer base, attract favourable financial opportunities and be exposed to individuals that could possibly be employed as new qualified staff for businesses and enterprises.
Mr Njie said they would keep praying and working for the continued partnership between the Gambian government and the GCCI, while the Gambian business community would continue to go from strength to strength and its successful impact being felt by the average Gambian for many years to come.
This, he added, would make a difference in their lives, in a socio-economic dimension bringing in greater prosperity for all and increased job opportunities created by The Gambia's public private partnership.
"The GCCI will continue to call for an integrated approach to promote and support local enterprises in a sustainable and viable manner," Mr Njie said.
"Therefore, in the year of the Gambia's Golden Jubilee, GCCI will continue to strengthen the institutions and systems which nurture Gambian enterprises, as well as ensure that human, financial and natural resources are combined equitably and efficiently in order to bring about innovation and enhanced productivity and sustainable development in the country."
The GCCI vice president further noted that whilst MSMEs play an important role in the socio-economic development of The Gambia, these institutions are, however, faced with numerous challenges such as lack of managerial skills, access to finance, limited access to information and understanding of markets, among others.
The Chamber will continue to partner with GIEPA, MOTIE, MOFEA and other stakeholders to support the emergence and development of these enterprises, Mr Njie said. 
Read Other Articles In Article (Archive)