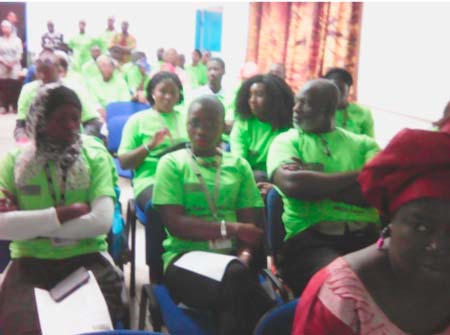 Stakeholders from MRC Gambia and partners on 26 May launched Health, Safety and Environment Awareness Week Celebration, at MRC Bray Lecture Hall.
Speaking at the official opening, Prof. Umberto D'Alessandro, Unit Director of MRC Gambia, said the theme for this year's celebration is: "Make a Small Change to Protect Your Health, Safety and Environment" which is out to encourage all staff that small changes in their daily lives at work and home will make big improvement towards their health, safety and most importantly the environment.
He said as regards celebration, the unit's environmental management initiative was launched hence the celebration is called Health, Safety and Environment Awareness (HSE).
For her part, Ms Sarah Dufie Sarpong, Head of Health, Safety and Environment MRC Unit The Gambia, explains the need to Make a Small Change for Health, Safety and Environment (HSE), thus reduce global warming, conserve natural resources for future generations, reduce cost and inefficiencies, prevent or reduce workplace injuries and illness among many others.
She described global warming as the heating up of the planet as a result of gradual increase in the overall temperature of the atmosphere of the earth generally attributed to the greenhouse effect caused by increased levels of CO2, methane and pollutant other gases.
She said greenhouse gases are emitted naturally but human activity also contribute to increasing emissions and key among such activities is deforestation and other forms of environmental exploitation.
Speaking on chronic diseases, and small changes you can make to keep them away, Dr Karen Forrest, Consultant Clinical Services, emphasised that one should eat more fruit and vegetables to increase dietary fibre, which is only found in fruit and vegetables.
He said fruit and vegetable is necessary for good bowel function, fermented by intestinal bacteria, fuel for intestinal mucosa.
It also protects against bowel cancer, reduces fat and calorie content of overall diet, and increases vitamins and minerals without increasing salt intake, she explained.
She added, eat less salt to control your blood pressure because salt increases blood pressure, as it prevents drugs for high blood pressure from working properly and salt is found in stock cubes, sauces, nuts, salt fish and bread.
Joan Vives Thomas of MRC Unit The Gambia, also spoke at the function, on such issues as managing consumption, renewable energy technologies and air conditioning refrigerants in relation to ozone depletion potential.
Read Other Articles In Article (Archive)