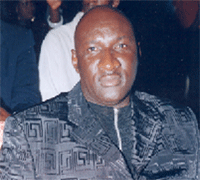 Musa Suso, former National Assembly Member for Kombo North constituency, Tuesday testified in the criminal trial involving former Inspector General of Police, Ensa Badjie, and Tijan Badjie, former police prosecutor, at the Banjul Magistrates' Court before acting-Principal Magistrate Taiwo Alagba.
Ensa Badjie and Tijan Badjie were indicted on a four-count charge of conspiracy to defeat justice, destroying evidence, abuse of office and deceiving witness.
Testifying as the third prosecution witness, Musa Suso told the court that he knew the 2nd accused person when he was prosecuting him in a dead bull case, and that the 1st accused was a member of the panel that was set up to investigate the alleged SIM card that was said to have been found in a cell he was occupying at Mile 2 central prisons.
"The revelation about the issue of a dead bull that was brought to Mile 2 prison by David Colley led to my appearance before a panel, and I told them what I knew about the dead bull that was brought to Mile 2 to feed the prisoners," Musa Suso told the court.
Suso further told the court that he was then taken back to Mile 2, where one chief prison officer by the name Ndoye Darboe, came to his cell and told him to pack his belongings as he was pardoned by the President.
He stated that after three months, he received a telephone call from the police headquarters that he should report to the office of the then Crime Management Coordinator, Ensa Badjie.
He told the court that Ensa Badjie, by then CMC, told him that he was called in connection with the dead bull issue, because the state was interested in that case. He told the court that he narrated what he knew about the issue.
"Ensa Badjie then pleaded with me that I should change my statement to say that Benedict Jammeh and Burama Dibba asked me to lie against David Colley," he told the court.
He said he refused to do so, and Ensa Badjie sent him out and asked him to report to Biran Jobe's office, where Biran Jobe invited one Jabang to obtain a statement from him, adding that he was later asked to go home and report the next day.
According to Musa, when he came back he was detained and later taken to court before Magistrate Kayode, stating that he then saw Burama Dibba being escorted from prison.
"At that juncture, I stood up and said that Burama Dibba knew nothing in this case. I am the one who revealed everything," he stated, adding that Dibba was then put on trial for giving false information, but was later acquitted and discharged.
"I was charged by the police, for giving false information, for which I was convicted and sentenced by Magistrate Kayode at the Bundung Magistrates' Court," he told the court.
He added that during his detention, he was kept incommunicado at the maximum security wing in confinement for one year three months.
He alleged that at the prisons' party he was called to David Colley's office, when Ensa Badjie was the IGP and he (Ensa Badjie) told him, "if you change your statement, I would talk to the President to release you".
He said he replied to Ensa Badjie that his conscience would not allow him to incriminate innocent people.
"I prefer dying in the cell, than to tell lies against innocent people," he added.
The case at that juncture was adjourned till 31 May 2011, for cross-examination.
Read Other Articles In Article (Archive)